Research article
Open Access
Open Peer Review
This article has Open Peer Review reports available.
How can latent trajectories of back pain be translated into defined subgroups?
BMC Musculoskeletal Disorders
BMC series – open, inclusive and trusted
2017
18:285
Received: 1 May 2017
Accepted: 27 June 2017
Published: 3 July 2017
Abstract
Background
Similar types of trajectory patterns have been identified by Latent Class Analyses (LCA) across multiple low back pain (LBP) cohorts, but these patterns are impractical to apply to new cohorts or individual patients. It would be useful to be able to identify trajectory subgroups from descriptive definitions, as a way to apply the same definitions of mutually exclusive subgroups across populations. In this study, we investigated if the course trajectories of two LBP cohorts fitted with previously suggested trajectory subgroup definitions, how distinctly different these subgroups were, and if the subgroup definitions matched with LCA-derived patterns.
Methods
Weekly measures of LBP intensity and frequency during 1 year were available from two clinical cohorts. We applied definitions of 16 possible trajectory subgroups to these observations and calculated the prevalence of the subgroups. The probability of belonging to each of eight LCA-derived patterns was determined within each subgroup. LBP intensity and frequency were described within subgroups and the subgroups of 'fluctuating' and 'episodic' LBP were compared on clinical characteristics.
Results
All of 1077 observed trajectories fitted with the defined subgroups. 'Severe episodic LBP' was the most frequent pattern in both cohorts and 'ongoing LBP' was almost non-existing. There was a clear relationship between the defined trajectory subgroups and LCA-derived trajectory patterns, as in most subgroups, all patients had high probabilities of belonging to only one or two of the LCA patterns. The characteristics of the six defined subgroups with minor LBP were very similar. 'Fluctuating LBP' subgroups were significantly more distressed, had more intense leg pain, higher levels of activity limitation, and more negative expectations about future LBP than 'episodic LBP' subgroups.
Conclusion
Previously suggested definitions of LBP trajectory subgroups could be readily applied to patients' observed data resulting in subgroups that matched well with LCA-derived trajectory patterns. We suggest that the number of trajectory subgroups can be reduced by merging some subgroups with minor LBP. Stable levels of LBP were almost not observed and we suggest that minor fluctuations in pain intensity might be conceptualised as 'ongoing LBP'. Lastly, we found clear support for distinguishing between fluctuating and episodic LBP.
Keywords
ClassificationLow back painSubgroupsTrajectory
Background
The outcome trajectories of individuals with low back pain (LBP) show diverse patterns, and data-driven analyses have demonstrated that distinct trajectory subgroups exist that not only differ in pain severity but also in their course pattern [1–7]. People with different LBP trajectories also differ on a number of other characteristics and so subgrouping LBP by course trajectories may be helpful as a way to define relatively homogenous phenotypes of 'non-specific' LBP [8]. Therefore, there is interest in whether these phenotypes might facilitate better prognostic estimates and more targeted treatment [9, 10].
The data-driven subgrouping of LBP course patterns, which has been primarily conducted using Latent Class Analyses (LCA), has identified broadly similar types of trajectory patterns across multiple LBP cohorts [8]. However, different terminology has been used to describe these patterns, and the 'latent' patterns identified by LCA are difficult to directly compare for a number of reasons. One reason is that in LCA, people are not grouped into mutually exclusive groups but instead have a certain probability of belonging to each latent class (albeit they often have a relatively high probability of belonging to only one latent class). Furthermore, the specific trajectory patterns identified can depend on the type of data informing the analyses (e.g. categorical versus continuous variables), the frequency of data collection, and the size and composition of the study sample [11, 12]. Also, latent classes are impractical for clinical situations because the statistical parameters from the LCA model would be needed for application of the derived patterns to individual new patients.
Therefore, it would clearly be useful to be able to identify trajectory subgroups from descriptive definitions that could be easily applied to independent datasets or individual new patients as a way to apply the same definitions of mutually exclusive subgroups across populations. For example, we would need standardised definitions if we were to determine if certain trajectory patterns are more frequent in some populations than others or following particular treatments. Also, it would be very useful to operationally define specific and clearly described trajectory subgroups as a means to facilitating investigations into whether trajectory patterns are clinically useful indicators of relatively homogenous LBP phenotypes.
We participated in a collaborative group that suggested standardising definitions for labelling LCA-derived trajectory patterns in order to provide a common terminology and promote consistency within this research field [
8
]. These were consensus-based suggestions that captured the general features of LBP trajectory patterns that had been identified across different settings and different methods. The suggested labels described LBP trajectories in terms of pain intensity, pain variation over time, and the early change patterns after initiating care (Table
1
).
Table 1
Descriptions of the defined trajectory subgroups
Principal dimensions of trajectory subgroups

Terminology for labelling

Suggested definition

INTENSITY

Mean scores 0–10 Numerical Rating Scale

Severe pain

6–10

Moderate pain

4–5

Mild pain

2–3

Minor pain/Recovery a

0–1

VARIATION

Ongoing pain

An individual's pain intensity stays within mean +/− 1-point (0–10 NRS)

Pain reported >4 days per week

Fluctuating pain

Variation in pain intensity exceeds 2 points*, without periods of no pain (0) lasting ≥1 month [21]

Episodic pain

Experiencing more than one period of pain over 1 year separated by periods with no pain (0) lasting ≥1 month

Single episode

Experiencing one episode lasting ≤ 2 weeks within 1 year

Change pattern (likely to be most relevant for clinical populations)

Rapidly improving pain

Marked decrease in pain intensity within 1 month

Gradually improving pain

Marked decrease in pain intensity occurring gradually over more than 1 month

Progressing pain

An overall pattern of increasing pain intensity
Although these definitions were primarily intended to facilitate a common terminology, it would be very useful if they could also be used to descriptively classify people into pre-defined trajectory subgroups in new data without the need to perform LCA. However, two practical requirements of such a process would be that most people's observed trajectories would fit into the trajectory definitions when those definitions were applied to new LBP data, and that there was a good classification match between the trajectory patterns identified by LCA and the trajectory definitions. Currently, it is unknown to what extent either is true.
This study was an initial step in establishing useful definitions of trajectory subgroups. By applying the suggested trajectory subgroup definitions to two clinical LBP datasets the objectives of this study were to determine: (1) the prevalence of observed LBP trajectories that fitted into these subgroup definitions, (2) how individuals' classification into defined trajectory subgroups matched their membership of previously identified LCA-derived trajectory patterns, and (3) how distinctly different the defined subgroups were. On the basis of these results, we then make suggestions about how the trajectory subgroup definitions could be refined.
Methods
This study is a secondary analysis of data from an observational cohort study that consisted of a sample from general practice and a sample from chiropractic practice. Descriptions of the samples and results from other studies of this cohort have been published [4, 13–15]. Patients were included when seeking care for LBP and were followed weekly for 1 year after inclusion.
In the current study, weekly measures of pain intensity were used to subgroup patients in these samples into trajectory subgroups using previously reported definitions that were based on trajectory patterns observed across a number of studies (hereafter referred to as 'defined trajectory subgroups') [
8
]. This subgrouping was compared to patients' membership in eight LCA-derived trajectory patterns that had been previously identified within this sample (hereafter called 'LCA-derived trajectory patterns') [
4
] (Fig.
1
).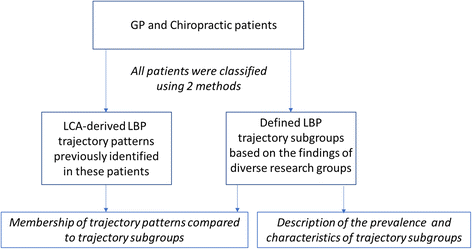 Results
Baseline data were available from 1240 patients (302 from general practice, 938 from chiropractic practice). From both settings, 13% were excluded due to less than 20 responses out of 43 possible follow-up measurement points, leaving a study cohort of 1077 participants. The baseline characteristics of the study cohort and of those excluded due to missing responses are summarised in Table
3
.
Table 3
Baseline characteristics of the sample
General practice sample (n = 263)

Chiropractic sample (n = 814)

Excluded (n = 163)

Female (%)

57%

45%

47%

Age, mean (sd)

45 (11)

43 (11)

44 (13)

Episode duration (%)

 0–2 weeks

39%

63%

55%

 2–4 weeks

14%

14%

11%

 1–3 months

16%

11%

11%

  > 3 months

32%

13%

23%

LBP intensity at baseline (NRS 0–10), median (IQR)

7 (6–8)

7 (5–8)

7 (6–9)

Leg pain intensity at baseline (NRS 0–10), median (IQR)

3 (0–6)

2 (0–4)

2 (0–6)

Previous LBP episodes

 0

15%

16%

18%

 1–2

24%

35%

30%

 3 or more

61%

49%

52%

RMDQ (0–100), median (IQR)

61 (39–78)

52 (35–70)

61 (39–78)
Discussion
In this study, we classified the LBP trajectories of samples of patients using previously recommended definitions for defined trajectory subgroups and found that data from weekly measures of LBP did allow us to categorise every participant into these subgroup definitions, which demonstrated that the definitions were readily applicable to these data. Furthermore, we explored how individuals' classification into defined trajectory subgroups matched with their membership of previously identified LCA-derived trajectory patterns, and the results showed a strong match for most subgroups.
On the basis of our results, we suggest that the applied trajectory subgroup definitions might benefit from further refinement as the trajectories of this sample seemed to be adequately described by fewer subgroups than the 16 previously defined. Firstly, because almost nobody fulfilled the criteria for the 'ongoing LBP subgroups', at least in this cohort, and secondly, because very consistent pain intensities may not be substantially different from pain intensities that fluctuate at the level of +/− one point on an 11-point scale. Almost all people in this cohort had these small fluctuations and it is possible that this just reflects measurement error [21]. The question of what magnitude of fluctuations is a useful differentiator from those people experiencing constant levels of pain remains to be investigated, but 'ongoing' and 'fluctuating' subgroups might be collectively considered to be 'ongoing LBP with or without fluctuations'. Also, we observed that subgroups with minor LBP and subgroups with single episodes should probably be considered one subgroup. In contrast, the value of distinguishing between fluctuating and episodic LBP was clearly supported by the observation that episodic LBP was more benign (less intense and fewer days of LBP per week, less distress, and less activity limitation) than fluctuating LBP, and people with episodic LBP had more positive expectations about future LBP than people with fluctuating LBP. However, the large subgroup of 'severe episodic' pain was somewhat heterogeneous and people in that group who reported very few days with LBP may fit better with the 'single episodes' subgroups.
We defined episodic pain as LBP recurring after a period of at least four pain-free weeks, which was based on previous recommendations [19, 20]. We found that LBP reoccurring after pain-free periods of four or more weeks was no different from LBP reoccurring after one to 3 weeks and in that sense, our data do not provide support for four pain-free weeks indicating an empirically distinct threshold. However, it should also be noted that our data also did not suggest that shorter or longer pain-free periods would provide a better definition of 'episodic', and it is noteworthy that when using the recommended definition of four or more weeks, the 'episodic subgroups' were distinctly different on other pain characteristics from non-episodic LBP subgroups, which adds support to their construct validity. Across subgroups, most people had periods without pain and therefore short-lasting reports of being pain-free do not appear to be a suitable basis for defining recovery from LBP.
Demonstrating that the previously suggested defined trajectory subgroups can be applied to data and that all trajectories in this cohort could be unambiguously classified suggests that it is practical to use these definitions to identify LBP trajectory subgroups in new cohorts. The availability of operationally defined subgroups that allow the classification of trajectories of individuals, establishes a potential method for directly comparing the trajectory subgroups across cohorts without the need for the statistical identification of latent classes in each cohort. Furthermore, the development of exact criteria for defined trajectory subgroups may allow identification of homogenous LBP subgroups, for example, as an inclusion criterion for intervention studies. However, this would require that the LBP trajectory of individuals could be established prior to inclusion or that people are able to identify what trajectory subgroup they belong to based on recall [22].
For further refinement of the criteria for defined trajectory subgroups, it would be useful to explore if ongoing and fluctuating LBP are substantially different or could be considered one type of pain variation. This would require cohorts with a higher prevalence of ongoing LBP. One aspect of this is that we need better insight into what magnitude of pain fluctuations may be of importance. We operationalised the definition of fluctuations as a deviation of +/−1 point from the mean. This small variation may actually simply be 'noise' or measurement error. However, eight in ten people with these small fluctuations also had larger variations in pain intensity (at least +/−2 points from the mean). Also, additional studies should investigate if the subgroups of 'minor LBP' and 'single episode LBP' are generally experienced differently by people or could also be considered one phenotype. This may include looking at single episodes of LBP lasting more than 2 weeks, as these were grouped as 'episodic LBP' using the current definitions.
While there is appeal in operationalising one fixed approach to trajectory subgrouping, the level of detail needed to differentiate between subgroups may not be the same for all purposes. For example, there may be different requirements if studying trajectory subgroups as potential treatment effect modifiers than if using the subgroups for patient education [8]. Furthermore, there is a need for determining if there is a useful way to apply modified subgroup definitions if data is collected less frequently than weekly.
The strengths of this study were the availability of weekly collected data about both LBP intensity and frequency in two different patient samples [13]. Also, it was advantageous that the LCA-derived trajectory patterns had been identified in the samples before the subgroup definitions were made, as the choice of a LCA model involves some subjective decisions. In contrast, it may be a weakness that the LCA patterns identified from these samples were included in one of the nine studies that informed the development of the subgroups definitions, but due to the number of studies, this is likely to have not been a large influence [8]. One limitation of this study was that only people with relatively complete data were classified, as we excluded the 13% of the cohort who had many missing values. We did so because these could not be unambiguously subgrouped without imputing data and, in this initial study, we opted to use only observed data. Depending on the purpose of subgrouping, imputation may be appropriate. We chose to exclude data from the first 9 weeks after care- seeking to make the results more widely relevant and to reduce the number of defined trajectory subgroups that were explored. However, for some purposes, the inclusion of early change patterns could be relevant and could be applied by using similar principles to those presented here.
Conclusion
This study was the first to demonstrate that suggested definitions of LBP trajectory subgroups can be readily applied to individuals' observed data resulting in subgroups that match well with LCA-derived trajectory patterns. We suggest that the number of trajectory subgroups can be reduced by merging some subgroups with infrequent and mild LBP. Further, we suggest that minor fluctuations in pain intensity might be conceptualised as 'ongoing LBP'. Lastly, we found clear support for distinguishing between fluctuating and episodic LBP.
Abbreviations
IQR:

Inter Quartile Range
LBP:

Low Back Pain
LCA:

Latent Class Analysis
PP:

Posterior Probability
SD:

Standard Deviation
Declarations
Acknowledgements
Not applicable.
Funding
This study received no funding.
Availability of data and materials
Data are available on request. Please contact the corresponding author.
Authors' contributions
AK, LH and PK contributed to the design of the study. AK carried out data analysis and wrote the initial draft of the manuscript. All authors contributed to the refinement of the manuscript and read and approved the final version.
Ethics approval and consent to participate
Under Danish law, ethical approval was not needed for additional analysis of existing observational cohort data [23]. Patients gave consent to participate in the cohort study.
Consent for publication
Not applicable.
Competing interests
AK and LH are members of the Editorial Board of BMC Musculoskeletal Disorders. The Nordic Institute of Chiropractic and Clinical Biomechanics and AK's position at the University of Southern Denmark are financially supported by the Danish Chiropractors' Foundation. The authors declare to have no competing interests.
Publisher's Note
Springer Nature remains neutral with regard to jurisdictional claims in published maps and institutional affiliations.
Open AccessThis article is distributed under the terms of the Creative Commons Attribution 4.0 International License (http://creativecommons.org/licenses/by/4.0/), which permits unrestricted use, distribution, and reproduction in any medium, provided you give appropriate credit to the original author(s) and the source, provide a link to the Creative Commons license, and indicate if changes were made. The Creative Commons Public Domain Dedication waiver (http://creativecommons.org/publicdomain/zero/1.0/) applies to the data made available in this article, unless otherwise stated.
Authors' Affiliations
(1)
Nordic Institute of Chiropractic and Clinical Biomechanics, Odense M, Denmark
(2)
Department of Sports Science and Clinical Biomechanics, University of Southern Denmark, Odense M, Denmark
(3)
Department of Physiotherapy and Exercise Science, Curtin University, Perth, Australia