Research article
Open Access
Open Peer Review
This article has Open Peer Review reports available.
Design process of cementless femoral stem using a nonlinear three dimensional finite element analysis
BMC Musculoskeletal Disorders
2014
15:30
Received: 7 September 2013
Accepted: 29 January 2014
Published: 3 February 2014
Abstract
Background
Minimal available information concerning hip morphology is the motivation for several researchers to study the difference between Asian and Western populations. Current use of a universal hip stem of variable size is not the best option for all femur types. This present study proposed a new design process of the cementless femoral stem using a three dimensional model which provided more information and accurate analysis compared to conventional methods.
Methods
This complete design cycle began with morphological analysis, followed by femoral stem design, fit and fill analysis, and nonlinear finite element analysis (FEA). Various femur parameters for periosteal and endosteal canal diameters are measured from the osteotomy level to 150 mm below to determine the isthmus position.
Results
The results showed better total fit (53.7%) and fill (76.7%) canal, with more load distributed proximally to prevent stress shielding at calcar region. The stem demonstrated lower displacement and micromotion (less than 40 μm) promoting osseointegration between the stem–bone and providing primary fixation stability.
Conclusion
This new design process could be used as a preclinical assessment tool and will shorten the design cycle by identifying the major steps which must be taken while designing the femoral stem.
Keywords
MorphologyFemurHip replacementCementless hipFinite element analysis
Background
Total hip arthroplasty (THA) is recognized as the most successful orthopaedic surgery in the 20th century. This fact was confirmed by the United Nation (UN) and World Health Organization (WHO) which declared the years 2000 – 2010 as the "Bone and Joint Decade" due to the rise of musculoskeletal diseases aligned with the aging population [1]. In the United States alone, the demand for THA is estimated to rise by 174% by 2030 to 572 000 procedures [2]. The high prevalence of hip arthroplasty has encouraged implant manufacturers to produce better designs with optimized fixation as prescribed by the orthopaedic surgeon. However, there is no universal design for hip implants which could fit and fill all femur types [3–5]. Noble et al. [3] classified the endosteal canal into three different shapes based on the canal flare index (CFI): stovepipe shape (CFI < 3.0), normal shape (3.0 < CFI < 4.7) and champagne flute shape (CFI > 4.7). In our previous study [6–9], we found that Asian medullary canals are categorized under normal and champagne flute shape. This peculiar proximal hip morphology of Asian's requires the development of an appropriate design which could prevent complications due to the implant's geometric mismatch such as stress shielding, micromotion and loosening [8]. However, most commercial stems are designed and manufactured in Europe and North America which are tailored to their anatomical structure [6–8]. This development led to the design of a femoral stem which suits local population morphology and lessens bone loss during surgery. This newly designed stem distributes loads optimally and attains better primary fixation. Furthermore, the rapid growth of in silico methods aids in shortening the design process for implant manufacturers and researchers prior to clinical trial.
Several studies have been performed regarding the cementless femoral stem using in silico and experimental methods [10–12]. Dopico – Gonzalez et al. [10] presented a robust tool for probabilistic finite element analysis of the cementless hip focusing on femur characteristics and implant design geometry between Proxima short stem and IPS stem showing good agreement with the in-vitro study. In addition, Pettersen et al. [11, 12] supported the excellent correlation between an actual human cadaver and finite element study while investigating the feasibility of subjects specific to stress shielding and micromotion using cementless Summit stem. Ando et al. [13] also performed a finite element analysis to compare their stems for Japanese dysplastic hip (FMS and FMS-anatomic) with other commercial stems such as Omnifit, Omniflex and IDS focusing on contact stress, relative motion and load transfer prior clinical use. The results showed the load was transferred mostly in proximal region with low micromotion value, which supported the excellent success rate of this implant [14, 15]. Furthermore, Rawal et al. [16] manufactured the Indian femoral stem using 3 axis CNC machine after finding that the equivalent von Misses stress result from finite element analysis was below 160 MPa to prevent the endosteal fracture. In this study, we apply a similar method using nonlinear three dimensional finite element analysis in the design process of a cementless stem for Malays. Finite element analysis became a useful tool for researchers to predict early and medium term results [17]. Furthermore, identifying the problem and rectifying it using finite element analysis helped to significantly improve the implant during the design process before actual clinical trials. Promising results from the analysis point towards less dependency on in vivo experiments. We believe that finite element analysis using the actual femora might become a useful tool for pre-clinical testing of newly designed implants. The finite element could become a "safety measure" for new stems before the clinical trial. If the stem fails at this stage, the stem would most probably fail clinically. This study aims to propose a design process of the cementless femoral stem which began by reverse engineering the three dimensional morphology analysis, design of optimal fit and fill femoral stem, and analysis using finite element to rectify its disadvantages before fabrication.
Methods
The steps and framework of a cementless femoral stem design are summarized in Figures
1
and
2
. Generally, the femur image of the patient is taken by standard radiograph and the template given by the implant's manufacturer was used to determine the implant's size. However, we proposed another method which was more efficient than the conventional methods. The first step was to acquire the computed tomography (CT) dataset of the femur, followed by the reconstruction of three dimensional (3D) morphological analysis. The 3D anthropometric dataset of 60 healthy subjects were then used to design a cementless femoral stem before performing a 'virtual surgery of hip arthroplasty' using the "averaged" femora based on our previous studies [
6
–
9
]. The canal fit and fill were analyzed for the optimal implant, and finally the finite element model was analyzed to examine stress distribution, displacement and micromotion.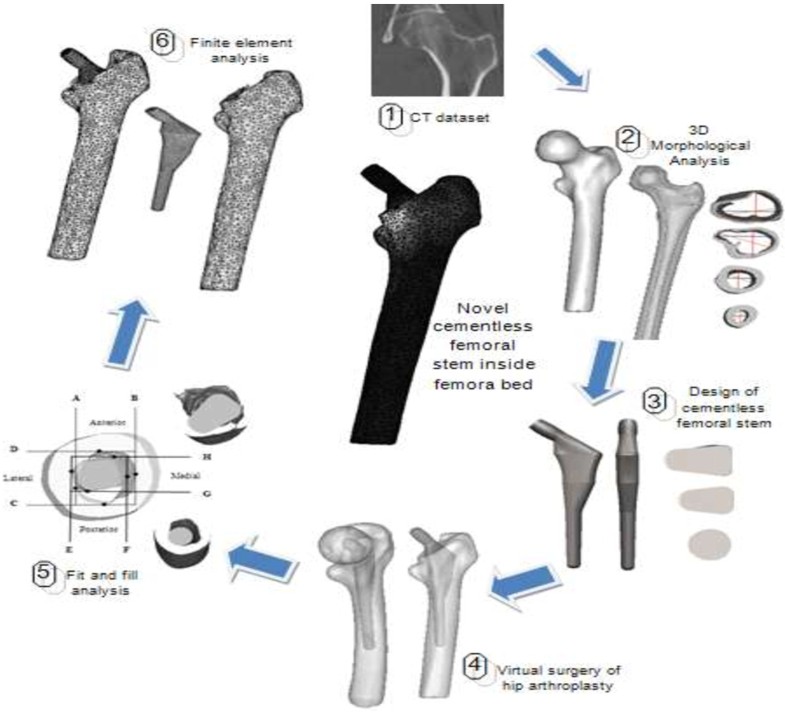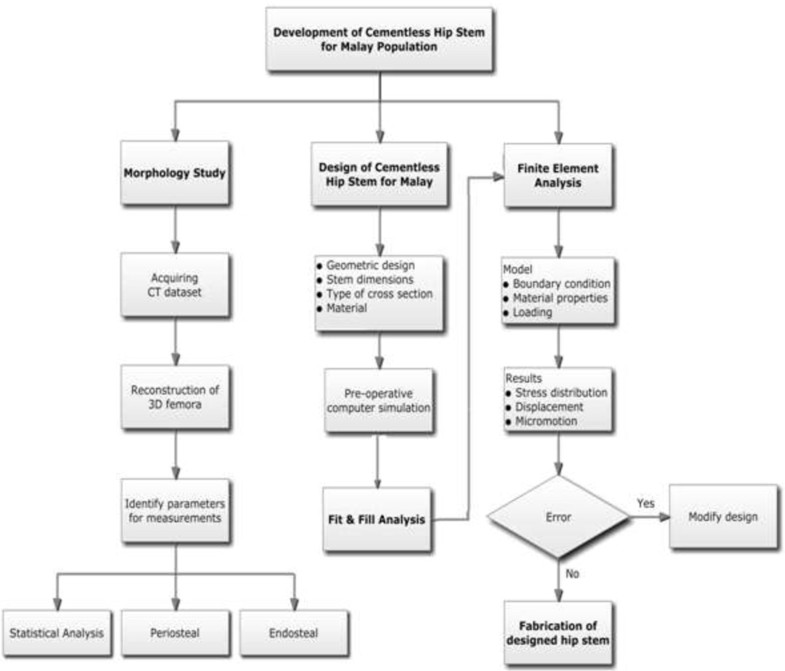 Conclusion
In conclusion, we would like to stress the importance of stem design based on femur morphology, especially in Asians. The cementless stem design was crucial especially at the metaphyseal region which provided initial fixation stability. In addition, a universal stem of variable size is not the only option available to the peculiar morphology of the Asian population. We hope that this new design process framework will shorten the design cycle, and help researchers to design better femoral stems by identifying the major steps which must be taken and providing anthropometric datasets that could be used as guidelines. The use of accurate three dimensional models obtained from morphological analysis and finite element analysis could be used as preclinical assessment tools to mimic the actual optimal conditions, of stem geometry, and to rectify any problems prior to fabrication.
Declarations
Acknowledgements
The authors would like to thank the Centre for Biomedical Engineering Transportation Research Alliance, Universiti Teknologi Malaysia (UTM) for providing the research facilities. This research work has been supported by UTM's Tier 1/Flagship Research Grant (Q.J130000.2436.00G31 & Q.J130000.2436.00G32), Ministry of Science and Technology Malaysia (MOSTI), and the Ministry of Higher Education (MOHE).
Authors' Affiliations
(1)
Department of Biomedical Engineering, Faculty of Engineering, University of Malaya, Kuala Lumpur, Malaysia
(2)
Centre for Biomedical Engineering Transportation Research Alliance, Universiti Teknologi Malaysia, Skudai, Malaysia
(3)
Department of Orthopaedic, Traumatology & Rehabilitation, Kuliyyah of Medicine, International Islamic University Malaysia, Kuantan, Malaysia
(4)
Department of Mathematical Sciences, Faculty of Science, Universiti Teknologi Malaysia, Skudai, Malaysia
(5)
Transportation Research Alliance, Universiti Teknologi Malaysia, Skudai, Malaysia
Copyright
© Baharuddin et al.; licensee BioMed Central Ltd. 2014
This article is published under license to BioMed Central Ltd. This is an Open Access article distributed under the terms of the Creative Commons Attribution License (http://creativecommons.org/licenses/by/2.0), which permits unrestricted use, distribution, and reproduction in any medium, provided the original work is properly credited. The Creative Commons Public Domain Dedication waiver (http://creativecommons.org/publicdomain/zero/1.0/) applies to the data made available in this article, unless otherwise stated.