Research article

Open Access

Open Peer Review
This article has Open Peer Review reports available.
Comparing the functional impact of knee replacements in two cohorts
BMC Musculoskeletal Disorders
2014
15:145
Received: 19 November 2013
Accepted: 24 April 2014
Published: 5 May 2014
Abstract
Background
To examine if different rates of total knee replacement (TKR) in two similar cohorts with symptomatic knee osteoarthritis (OA) were associated with different functional impact of disease.
Methods
Subjects from the Multicenter Osteoarthritis Study (MOST) and the Osteoarthritis Initiative (OAI), persons with or at high risk of OA, had knee radiographs, completed Western Ontario and McMaster Universities Osteoarthritis Index (WOMAC) surveys and had TKRs confirmed at each visit. At each visit, subjects were defined as having symptomatic OA (SxOA) if ≥ one knee had pain and radiographic OA or if they had a TKR. WOMAC function scores at each visit were compared by analysis of covariance adjusting for age, sex, body mass index, race, site, depression, comorbidity, painful leg joints and knees affected. Post-TKR function scores were imputed to estimate scores that would have been present without TKR.
Results
Subjects with SxOA (n > 750 in MOST and in OAI) had a mean age 66 to 67 years; most were women and were White. Subjects were followed 4–5 years. Among those with SxOA, more TKRs were done in MOST (35%) than OAI (19%). Adjusted mean WOMAC function (0–68, 68 = worst) improved from 26.9 to 21.9 in MOST and from 24.5 to 22.0 in OAI (difference between MOST and OAI in change in WOMAC function, p = .01). Estimates of function without TKRs showed function would not have changed in MOST (23.2 at baseline to 22.4).
Conclusions
Functional status of subjects with knee OA in MOST improved more than in OAI, probably because of higher rates of TKRs. The decline suggests that TKR diminishes the functional impact of OA in the community.
Keywords
Total knee replacement
Function
Epidemiology
Background
Knee osteoarthritis (OA) is a painful and disabling disorder affecting approximately 6% of US adults [1]. Medical and rehabilitative treatments are limited and increasingly, persons affected by disease have sought total knee replacement (TKR). Of persons undergoing TKR 70-90% have a marked reduction in pain and improvement in reported function within 12 months after the surgery [2], but a substantial minority do not experience improvement [3, 4]. Rates of TKR have increased dramatically in the last 25 years, with the numbers rising over 8-fold since 1980 [5] in the U.S. There has also been a marked rise in the rates of TKR in the U.K. This increase has continued to occur in the 21st century with rates rising even in the last 5 years [6–9].
In two cohorts constituted of persons with or at high risk of symptomatic knee OA, we discovered that over time, participants in one of the cohorts underwent many more TKR's than those in the other cohort. This difference created a natural experiment to determine whether among large cohorts containing numerous persons with symptomatic knee osteoarthritis, a higher rate of TKR in one cohort would lead to a reduction in the functional impact of osteoarthritis compared with the other group.
While numerous studies have shown that individuals undergoing TKR on average experience an improvement in function [2] even compared with those who have OA but do not undergo TKR [10], we are unaware of any studies which have addressed whether the number of TKR's in a group with OA are sufficient to affect the overall impact of disease on function limitation in all those with disease. Even if those with TKR have better function than those with knee OA without TKR, the difference is not necessarily a large one and may not be sufficient to have an effect on the population of persons with knee OA until a large percentage of persons with knee OA get replacements. In two cohorts with very different rates of TKR, we tested the overall functional impact of TKR on function.
Results
In each of the MOST and OAI cohorts there were over 750 persons with symptomatic knee osteoarthritis at each examination. Groups were similar both across time points and across cohorts (see Table
1
) with respect to being in their late 60's on average, being mostly women and having a mean BMI in the obese range. Many subjects had painful joints outside of their knees. More subjects in MOST got their knees replaced than did OAI subjects. The cumulative frequency of at least one TKR in MOST subjects with symptomatic knee OA was 35.0% over 5 years (vs. 9.3% frequency in the same group at study baseline). In OAI, the cumulative frequency was only 18.6% over 4 years (see Figure
1
) and, of this group, 6.5% had TKR at baseline. Also the WOMAC function among those with symptomatic knee osteoarthritis was worse among subjects with symptomatic osteoarthritis in MOST than in OAI (for example, at baseline the crude WOMAC function score was 24.3 in MOST vs. 19.6 in OAI).
Table 1
Characteristics of participants with symptomatic knee OA in each cohort at each time point
MOST study

OAI study

Baseline (N = 824)

30 month (N = 818)

60 month (N = 765)

Baseline (N = 880)

24 month (N = 793)

48 month (N = 762)

Age, mean (SD), year

66.1 (6.4)

66.6 (6.7)

67.3 (6.8)

66.1 (6.7)

66.3 (6.9)

66.9 (7.1)

N (%) of women

541 (65.7)

527 (64.4)

512 (66.9)

515 (58.5)

486 (61.3)

451 (59.2)

N (%) of race

 Whites

679 (82.4)

672 (82.2)

631 (82.5)

633 (71.9)

627 (79.1)

604 (79.3)

 Blacks

137 (16.6)

139 (17.0)

118 (15.4)

219 (24.9)

147 (18.5)

135 (17.7)

 Others

8 (1.0)

7 (0.9)

16 (2.1)

28 (3.2)

19 (2.4)

23 (3.0)

BMI, mean (SD), kg/m2

32.6 (6.6)

32.5 (6.5)

32.9 (6.8)

29.9 (4.7)

30.1 (4.8)

30.4 (4.9)

CES-D, mean (SD)

8.7 (8.5)

8.0 (7.6)

7.8 (7.6)

7.1 (6.9)

6.9 (7.3)

7.5 (7.5)

Charlson comorbidity score, mean (SD)

0.7 (1.0)

0.8 (1.2)

0.9 (1.4)

0.5 (0. 9)

0.6 (1.0)

0.5 (1.0)

# of painful joints in lower limb other than knee, mean (SD)

2.0 (1.9)

1.4 (1.7)

1.9 (1.8)

1.0 (1.4)

0.9 (1.3)

0.9 (1.3)

N (%) with KR

 Unilateral KR

77 (9.3)

139 (17.0)

167 (21.8)

57 (6.5)

88 (11.1)

123 (16.1)

 Bilateral KR

0 (0)

29 (3.6)

101 (13.2)

0 (0)

4 (0.5)

19 (2.5)

N (%) with partial and total KR

 Partial KR

3 (0.4)

9 (1.1)

10 (1.3)

0 (0.00)

0 (0.00)

2 (0.3)

 Total KR

74 (9.0)

158 (19.3)

257 (23.6)

57 (6.5)

92 (11.6)

139 (18.2)

 Partial KR and total KR

0 (0)

1 (0.1)

1 (0.1)

0 (0)

0 (0)

0 (0)

WOMAC function, mean (SD)

24.3 (11.7)

23.0 (12.5)

19.0 (12.2)

19.6 (12.6)

17.5 (12.4)

17.0 (11.9)

Maximal WOMAC knee pain scale, mean (SD)

7.3 (3.7)

6.8 (3.9)

5.6 (3. 9)

6 (3.9)

5.6 (3.8)

5.5 (3.7)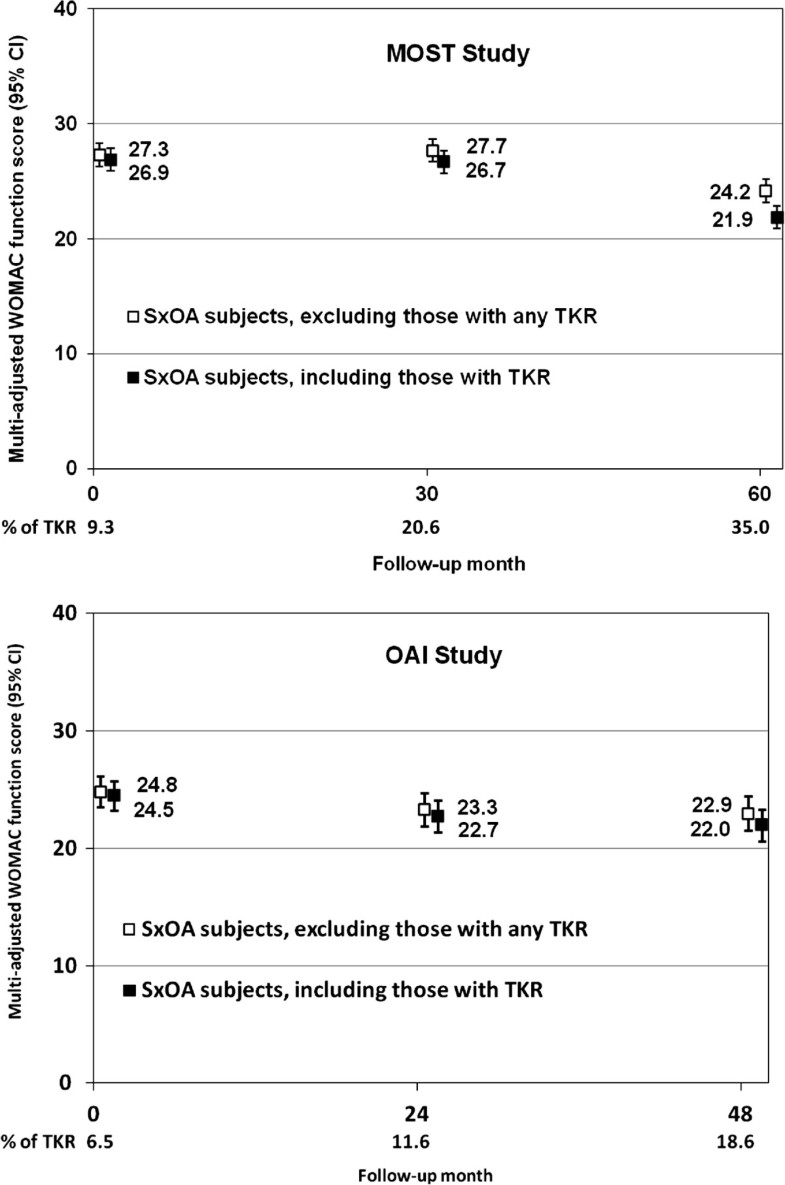 When we examined the pre-KR status of persons who later underwent TKR's, we found that their WOMAC function and pain scores were worse than those with symptomatic OA who did not undergo TKR's (for function in MOST, crude score 28.4 vs. 22.9, p < .0001; in OAI, 24.8 vs. 18.0, p < .0001; for pain in MOST, crude score 8.6 vs. 6.9, p < .0001 and for pain in OAI, crude score 7.8 vs. 5.6, p < .0001).
In MOST we found an improvement in the adjusted WOMAC function score (p < .0001) over time in persons with symptomatic osteoarthritis, a group which as noted above includes persons with TKR (see Figure 1top). To determine whether this was partially accounted for by removal of those with the most severe disease leaving only those with milder disease, we excluded those subjects with TKR (see Figure 1top). We found a drop in the WOMAC function score, suggesting that at least at 60 months, those with the most severe knee osteoarthritis had TKRs.
The improvement in physical functional status among those with symptomatic knee OA was not as marked in the OAI cohort (see Figure 1bottom). Even so, the WOMAC function score improved significantly (p < .0001) and there was a decline in WOMAC score even when we excluded those who had TKR.
When we analyzed the combined group, we found that those in MOST had an adjusted decrease (improvement) in WOMAC function score of 1.0 per year (95% CI −1.2, −0.8) and it was 0.6 per year for OAI (95% CI −0.9, −0.4). These changes were unadjusted for WOMAC function differences between MOST and OAI. We then tested to see if the WOMAC function scores of MOST and OAI were different and if the changes over time in function between the studies was different (see Table
2
) after adjusting for differences in function scores between MOST and OAI. MOST subjects with SxOA had a higher WOMAC function score than OAI subjects (p < .001) but after adjusting for this and other factors, WOMAC function scores improved more in MOST than in OAI (p = .01 for interaction of time X study). When we removed persons with TKR from both cohorts, we no longer found differences in change scores in OAI vs. MOST.
Table 2
Secular trend of WOMAC function score in two studies with interaction between study and time
Annual WOMAC function change (95% CI)*

P value

SxOA subjects

Visit, year

−0.64 (−0.88, −0.39)

<.0001

Study

MOST

3.15 (2.14, 4.16)

<.0001

Study

OAI

1.0 (referent)

Visit* study

MOST

−0.39 (−0.70, −0.08)

0.01

Visit* study

OAI

1.0 (referent)

SxOA subjects, excluding those with TKR

Visit, year

−0.50 (−0.726 -0.23)

0.0008

Study

MOST

3.24 (2.20, 4.29)

<.0001

Study

OAI

1.0 (referent)

Visit* study

MOST

−0.08 (−0.41, 0.25)

0.64

Visit* study

OAI

1.0 (referent)
To evaluate the effect of TKR on the average WOMAC function score in persons with symptomatic knee osteoarthritis, we imputed WOMAC physical function scores for subjects at the time of their replacements so that we could project a WOMAC function score if they had not had replacements (see Figure
2
). In MOST, the imputed WOMAC physical function scores did not change significantly over time, starting at 23.2 and ending at 22.4. In the OAI, there was an improvement in WOMAC physical function score in the imputed sample from 19.3 to 17.6.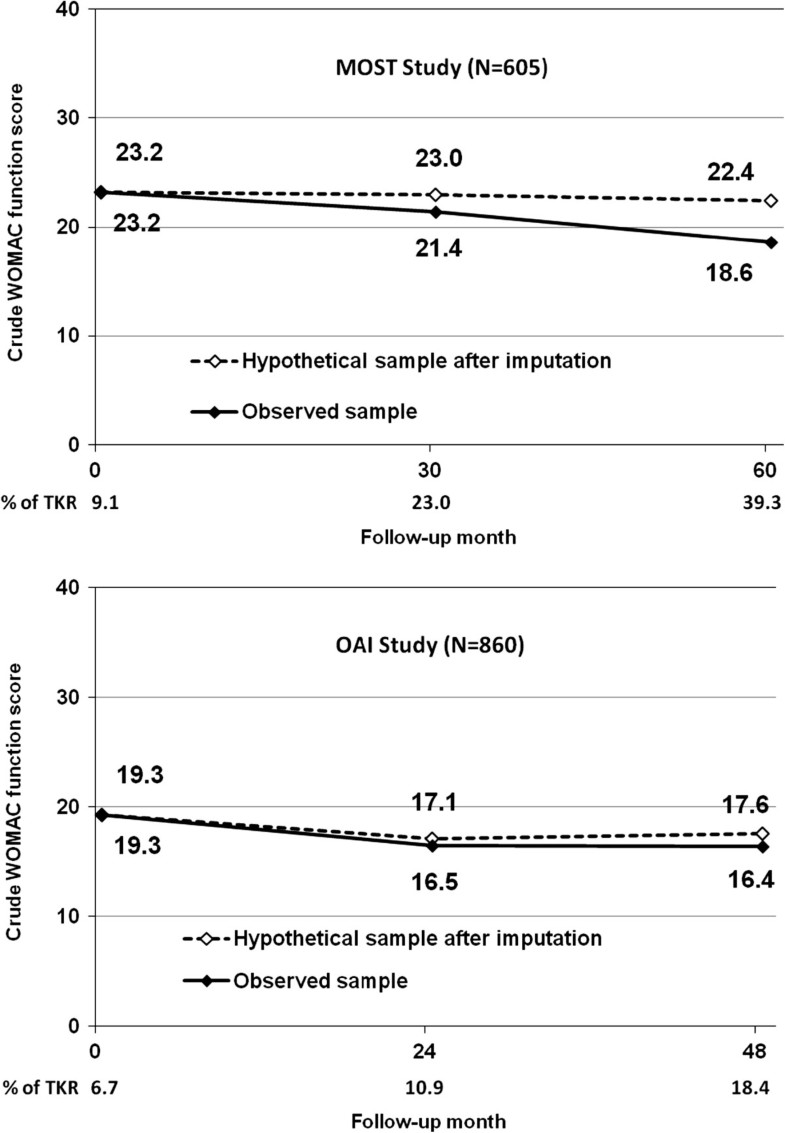 Using WOMAC pain as an outcome, a similar trend for improvement was seen in both the MOST study (adjusted pain score fell from 8.2 to 6.6, p < .0001) and in the OAI (adjusted pain score fell from 7.4 to 7.0, p = .004). In similar analyses to those examining WOMAC function, we found differences in pain change between MOST and OAI, changes that were not present when we removed persons with TKR's.
Discussion
Our findings from two large cohort studies that included persons with and at risk of symptomatic osteoarthritis showed that the average physical function score for those with symptomatic osteoarthritis improved more in the cohort with the higher rate of TKRs. Our results suggest that the functional impact of osteoarthritis will decline modestly when the proportion of persons with knee osteoarthritis with knee replacements rises dramatically. Starting at baseline, the new TKR rate differed by 14% of those with disease in MOST vs. OAI (26% vs. 12%) and the WOMAC function score fell by 2.5 points more in MOST.
While the rates of TKR in the population have increased markedly including in the 2000s [6], there are no population data on the proportion of those potentially eligible for replacement who have actually had the surgery. The cohorts we studied are drawn from the community (and not from clinics) but are not necessarily representative of the populations from which they were drawn. Even so, these data provide a valuable projection of the effects of different TKR rates on the functional status of populations with knee OA.
Previous studies have shown that persons after knee replacement have an average improvement in physical function not experienced by age and gender matched controls without disease [17] and that they experience relative improvements in function compared to matched persons with symptomatic OA [10]. These studies compared those with TKR to those without it, and our study extends these findings by studying the entire population likely to be affected by increased rates of this procedure and examining the procedure's overall impact on this population.
What else might account for our findings? First, in both the OAI and MOST, there might have been regression to the mean with subjects entering the study at a time when they were experiencing severe pain and functional limitation with a natural subsequent improvement. Regression to the mean may well account for the improvement in function at the beginning of the study in those without TKR but it probably does not explain our findings. When we imputed the function scores of those who underwent TKR we saw constancy, especially in MOST, suggesting that our results could not reasonably be explained by regression to the mean (see Figure 2). If there were regression to the mean, imputed scores would have shown improvement. Also, regression to the mean would have led to improvements in both cohorts and yet the improvement was significantly greater in MOST, the cohort with the higher rates of TKR. Another explanation for the improvement might be improved medical or rehabilitative therapy for knee osteoarthritis, but there has been no effective new treatment widely adopted by patients since the beginning of these studies. Further, we found no change over time in the proportion of subjects using analgesics or NSAIDs for OA in either cohort (data not shown).
OAI subjects with symptomatic OA had slightly milder OA at study onset probably because of study eligibility differences. Potential subjects with no knee pain or obesity and with only hand OA and with parents or siblings with knee replacement were eligible for OAI but not for MOST.
One might speculate that the high rates of knee replacement in MOST are due in part to the locations of these cohorts, situated in small cities with prominent academic medical centers where TKR may be more available than in the larger, more diverse cities where OAI was situated. Also, OAI had a modestly higher proportion of African Americans who generally have lower rates of TKR utilization. The differences in the rates of TKR in MOST and OAI cohorts may be informative in terms of the ultimate effects of this surgery. They suggest as TKR rates rise further that the improvement in physical function experienced by symptomatic knee osteoarthritis patients will be greater (see Figure 1).
There are a number of limitations to our work. First, other factors could have accounted for the differences in these cohorts. In MOST, the average function scores were worse than in OAI and regression to the mean could have been more marked there. Our analysis of change adjusted this overall difference and showed a significant difference with MOST subjects improving more than OAI subjects even after adjustment for differences in baseline function (see Table 2). Another potential limitation is loss to follow-up. In both studies over 85% of subjects initially recruited were tracked with respect to symptomatic knee osteoarthritis status and functional impact. Most of those lost in MOST were contacted by phone and the proportion with TKR was similar to those followed and who completed a WOMAC survey (37% vs. 42%). suggesting that our estimates of the proportion with TKR in the entire cohort are accurate. The follow-up times were different in the two cohorts and this could have introduced differences in WOMAC change. An additional limitation is that we do not know in either of these studies how TKR's were allocated and whether they were carried out in those most likely to experience functional improvement. Compared to rates and impact in MOST, it is conceivable that lower rates of TKR would lead to even larger improvements in function if their allocation were optimal.
Our data suggest that TKR surgery has a broad effect on the functional impact of knee osteoarthritis in the community. This finding may be useful in assessing the advantages and disadvantages of the large societal investment in TKR. The overall effects of TKR increase on the larger population with knee OA were small---one WOMAC function point yearly was gained by the increase in TKR rates in MOST compared with OAI. The estimate of minimal clinically important impact for WOMAC physical function after TKR is 14, and the population effect seen is much smaller than this. While considerable research has examined the extent of change in functional status (e.g. as measured by the WOMAC) that is clinically important for individuals, the extent of change across populations that is meaningful and relevant to policy decisions merits investigation. Even though our findings suggest a favorable population effect of TKR, they do not argue for more TKR's without consideration of clinical appropriateness.
Conclusions
In summary, based on work from two large cohorts drawn from communities in the United States in which there has been a substantial difference in rates of TKR, the group with the higher rate of TKR has had a greater improvement in OA related functional status. The best explanation for this is that the high rate of TKR's has led to a diminishing functional impact of disease.
Abbreviations
TKR:

Total knee replacement
OA:

Osteoarthritis
MOST:

Multicenter Osteoarthritis Study
OAI:

Osteoarthritis Initiative
WOMAC:

Western Ontario and McMaster Universities Osteoarthritis Index
SxOA:

Symptomatic OA
MCMC:

Markov Chain Monte Carlo methods.
Declarations
Acknowledgements
We appreciate the contributions of the subjects in OAI and MOST and the staff at the clinical centers who worked hard to make these studies successful.
Supported by NIH Grants U01 AG18820; U01 AG18832; U01 AG18947; U01 AG19069, AR47785 and AR051568. There was no financial support or other benefits from commercial sources for the work reported on in the manuscript.
Role of funding source
The study sponsor, NIH, had no role in the design, collection, analysis and interpretation of data, writing of the paper and decision to submit the paper.
Authors' Affiliations
(1)
From the Clinical Epidemiology Unit, Boston University School of Medicine, Boston, USA
(2)
Department of Epidemiology and Biostatistics, University of California, San Francisco, USA
(3)
Department of Epidemiology, University of Iowa, Iowa City, USA
(4)
Department of Preventive Medicine, University of Alabama, Birmingham, England
(5)
Department of Orthopedic Surgery and the Division of Rheumatology, Immunology and Allergy at the Brigham and Women's Hospital, Boston, USA
Copyright
© Niu et al.; licensee BioMed Central Ltd. 2014
This article is published under license to BioMed Central Ltd. This is an Open Access article distributed under the terms of the Creative Commons Attribution License (http://creativecommons.org/licenses/by/2.0), which permits unrestricted use, distribution, and reproduction in any medium, provided the original work is properly credited. The Creative Commons Public Domain Dedication waiver (http://creativecommons.org/publicdomain/zero/1.0/) applies to the data made available in this article, unless otherwise stated.