Research article

Open Access

Open Peer Review
This article has Open Peer Review reports available.
The effect of targeted treatment on people with patellofemoral pain: a pragmatic, randomised controlled feasibility study
BMC Musculoskeletal Disorders
BMC series – open, inclusive and trusted
2017
18:338
Received: 8 February 2017
Accepted: 24 July 2017
Published: 4 August 2017
Abstract
Background
Targeted treatment, matched according to specific clinical criteria e.g. hip muscle weakness, may result in better outcomes for people with patellofemoral pain (PFP). However, to ensure the success of future trials, a number of questions on the feasibility of a targeted treatment need clarification. The aim of the study was to explore the feasibility of matched treatment (MT) compared to usual care (UC) management for a subgroup of people with PFP determined to have hip weakness and to explore the mechanism of effect for hip strengthening.
Methods
In a pragmatic, randomised controlled feasibility study, 24 participants with PFP (58% female; mean age 29 years) were randomly allocated to receive either MT aimed specifically at hip strengthening, or UC over an eight-week period. The primary outcomes were feasibility outcomes, which included rates of adherence, attrition, eligibility, missing data and treatment efficacy. Secondary outcomes focused on the mechanistic outcomes of the intervention, which included hip kinematics.
Results
Conversion to consent (100%), missing data (0%), attrition rate (8%) and adherence to both treatment and appointments (>90%) were deemed successful endpoints. The analysis of treatment efficacy showed that the MT group reported a greater improvement for the Global Rating of Change Scale (62% vs. 9%) and the Anterior Knee Pain Scale (−5.23 vs. 1.18) but no between-group differences for either average or worst pain. Mechanistic outcomes showed a greatest reduction in peak hip internal rotation angle for the MT group (13.1% vs. −2.7%).
Conclusion
This feasibility study indicates that a definitive randomised controlled trial investigating a targeted treatment approach is achievable. Findings suggest the mechanism of effect of hip strengthening may be to influence kinematic changes in hip function in the transverse plane.
Trial registration
This study was registered retrospectively. ISRCTN74560952. Registration date: 2017–02-06.
Keywords
KneeStrength trainingTherapeutic exercisePatellofemoral painHip strengthening
Background
Patellofemoral pain (PFP) is widely considered an enigma of musculoskeletal medicine [1]. It has been reported to affect six to 7 % of the adolescent population [2] and one in six adults who consult their GP with knee pain will be diagnosed with PFP [3]. Of major concern is that recent studies have shown that 40 to 62% [2, 4] of individuals with PFP, at one-year follow-up, report unfavourable outcomes following treatment according to current paradigms.
One solution for improving PFP therapy, proposed by the international PFP community, is to establish subgroups of the wider PFP population, to allow targeted treatment, matched according to specific subgroup characteristics [5–7]. Currently, a multimodal treatment approach (a combination of individual treatments) is recommended as best practice [8]. However, it is likely that people with PFP will benefit from being stratified and matched to specific interventions [9]. Despite successive international consensus papers since 2011 recommending subgrouping [5–7, 10], very little literature has focused on subgrouping and targeted therapy. A small number of studies [11–15] have targeted treatment based on single clinical features, although no definitive studies exist to support targeted interventions in PFP.
Reduced hip muscle strength is considered an associated feature of PFP [16]. A number of authors have reported promising clinical outcomes after prescribing hip strengthening exercises for people with PFP [17–21]. It has been proposed that individuals with PFP present with a propensity towards increased hip adduction and internal rotation during dynamic movement [22]. This is a significant predictor of pain in PFP [23], thought to be linked to increasing patellofemoral joint contact stress [24]. Subsequently, correcting this altered movement pattern is often seen as a desired outcome in interventional studies [25].
There are however, conflicting findings around the mechanistic effect of hip strengthening in PFP [25]. Some studies have demonstrated a post-interventional change in kinematics [17, 26], whilst others have reported no change [27, 28]. The reason for these conflicting findings is unclear, however, the previous studies showing no kinematic change [27, 28] have included athletic cohorts and with one of the cohorts [27] clearly showing a higher than normal baseline strength. Selfe et al. (2016) [29] recently classified people with PFP into three subgroups: 'strong' , 'weak and tighter' and 'weak and pronated foot'. Notably, 22% were classified into the 'strong' subgroup with higher knee extension and hip abduction strength that may not gain from a treatment approach based on strengthening. A strengthening intervention would likely have the greatest effect on the kinematics of those with baseline weakness.
Large trials exploring a stratified approach for PFP are required, however, to ensure the success and effectiveness of such trials, a number of feasibility questions need to be answered. The primary purpose of this study was therefore to explore the feasibility of treatment matched to the specific clinical criteria of a selected subgroup compared to usual care (UC) management to inform a future stratified approach to PFP treatment. The a priori selection of a subgroup with a specific characteristic such as hip abductor weakness also provides the opportunity, as a secondary aim, to explore the mechanism of effect as this has also been recently advocated for trials of physical interventions [30].
Results
Feasibility outcomes
Figure
2
shows that 14 participants were randomised to MT and 12 participants to UC. Of the participants in the UC group, 55% received formal physiotherapy treatment, which may or may not have included a strengthening component. The remaining UC participants reported continuing with their normal self-management.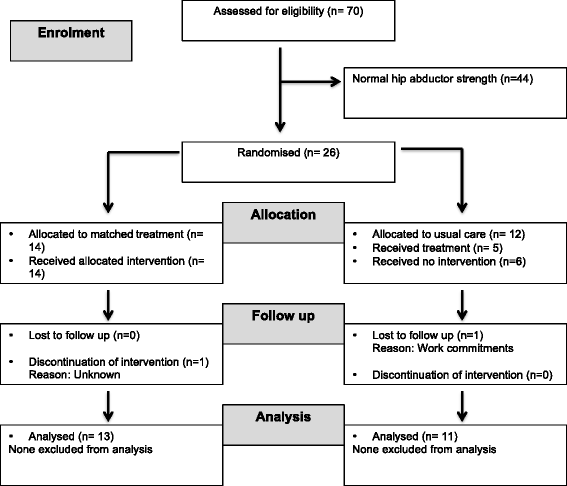 Recruitment & eligibility
Over 15 months, of the 70 who were screened, 26 were eligible based on hip weakness, an eligibility rate of 37.1%. All 26 eligible participants consented to the study (100% conversion to consent). Recruitment was predominantly from the SystmOne database 54% (14/26). Direct clinician referrals 15% (4/26), posters 23% (6/26) and a university alumni online advert 8% (2/26) accounted for the other sources of recruitment.
Randomisation and blinding
No practical problems were highlighted in the randomisation procedure. The randomisation yielded reasonable equality in terms of demographics and baseline symptoms (see Table
3
). The only notable difference was the larger number of people with bilateral knee pain in the MT compared to the UC group (64% vs. 33.3% respectively).
Table 3
Baseline characteristics. Values are means (SD) unless stated otherwise
| Characteristics | MT group (n = 14) | UC group (n = 12) |
| --- | --- | --- |
| Age (years) | 29.1 (6.3) | 29.3 (5.5) |
| No (%) of females | 7 (50%) | 8 (66.7) |
| Body Mass Index (kg/m2) | 25.9 (4.8) | 27.7 (7.9) |
| Median (interquartile range) duration of knee pain (months) | 30 (16.5–75.25) | 33 (10.5–54) |
| Physical activity (hours/week) | 3.1 (2.6) | 3.9 (3.7) |
| No (%) with bilateral knee pain | 9 (64.3) | 4 (33.3) |
| Anterior Knee Pain Scale | 74.6 (9.9) | 74.75 (12.3) |
| Worst pain | 4.7 (1.68) | 5.4 (2.3) |
| Average pain | 3.0 (1.4) | 3.9 (2.2) |
| No of participants who had received previous treatment (%) | 10 (71.4) | 9 (75.0) |
Adherence & acceptability
At post-treatment follow-up, two participants did not complete the study, an attrition rate of 8%. In the MT group, one participant did not attend their second treatment session and was then lost to contact. In the UC group, one participant was unable to complete the post-treatment analysis due to work commitments. Table
4
illustrates that of the MT group, five participants reported a 100% adherence to treatment with an overall average adherence to treatment of 94%. Treatment sessions required rearranging on seven occasions; three times for illness, three times for work commitments and once for childcare. This shows an adherence to appointment rate of 92%. Adherence to treatment and appointments was not relevant to in the UC group.
Table 4
Adherence to treatment for MT group
| Participant | Week 1 (%) | Week 2%) | Week 3 (%) | Week 4 (%) | Week 5 (%) | Week 6 (%) | Participant adherence % |
| --- | --- | --- | --- | --- | --- | --- | --- |
| 1 | 100 | 100 | 100 | 100 | 100 | 100 | 100 |
| 2 | 100 | 100 | 100 | 100 | 100 | 100 | 100 |
| 3 | 100 | 100 | 100 | 100 | 100 | 100 | 100 |
| 4 | 100 | 100 | 100 | 100 | 66.66 | 33.33 | 83.33 |
| 5 | 100 | 100 | 100 | 100 | 100 | 100 | 100 |
| 6 | 100 | 100 | 66.66 | 33.33 | 100 | 66.66 | 77.77 |
| 7 | 100 | 100 | 100 | 100 | 100 | 100 | 100 |
| 8 | 66.66 | 100 | 100 | 100 | 100 | 100 | 94.44 |
| 9 | 100 | 100 | 100 | 66.66 | 33.33 | 100 | 83.33 |
| 10 | 100 | 100 | 100 | 66.66 | 100 | 100 | 94.44 |
| 11 | 66.66 | 100 | 100 | 100 | 100 | 100 | 94.44 |
| 12 | 100 | 100 | 100 | 100 | 66.66 | 100 | 94.44 |
| 13a | - | - | - | - | - | - | - |
| 14 | 100 | 100 | 88.88 | 100 | 100 | 100 | 98.15 |
| Weekly adherence % | 94.87 | 100 | 96.58 | 96.58 | 89.74 | 92.31 | 93.87 |
Outcome measures
All questionnaires were completed fully without any missing data yielding a missing data indicator of 0%.
Treatment efficacy
Based on the GROC, overall the MT group demonstrated a larger improvement compared to UC group (61.54% vs. 9.09% respectively). The MT group demonstrated a greater improvement in AKP score compared to UC group (Mean Difference (MD) -6.41, 95% CI: 14.23, 1.41) with a medium effect size (
d =
0.70) (see Table
5
). Both worst pain NRS (−0.41; 95% CI: -1.93, 1.12) and average pain NRS (−0.02, 95% CI: -1.01.
Table 5
Clinical outcomes. Mean (SD) unless otherwise stated
Outcome

Group

Baseline (SD)

Post treatment (SD)

Mean difference (baseline –post) (SD)

Confidence intervals (95%)

Mean difference (MT-Control)

(95% CI)

ES (d) (MT- control)

AKPS

MT

75.08 (10.09)

80.31 (8.66)

−5.23 (10.17)

−11.37, 0.91

−6.41 (−14.23, 1.41)

0.70

UC

73.64 (12.23)

72.45 (16.94)

1.18 (7.91)

−4.13, 6.49

Worst NRS

MT

4.85 (1.68)

4.62 (2.10)

0.23 (2.05)

−1.01, 1.47

−0.41 (−1.93, 1.12)

0.23

UC

5.27 (2.33)

4.64 (2.16)

0.64 (1.43)

−0.33, 1.59

Average NRS

MT

3.08 (1.38)

2.46 (1.33)

0.62 (1.33)

−0.19, 1.42

−0.02 (−1.01, 0.96)

0.02

UC

3.73 (2.19)

3.09 (1.87)

0.64 (0.92)

0.02, 2.28

GROC

MT

61.5% (8/13)

UC

9.1% (1/11)
Resources & Study Management
The 9% of appointments that needed rescheduling required time to make these changes. No safety issues were reported.
Mechanistic outcomes
The results from the mechanistic outcomes are shown in Table
6
. Evaluation of the peak torque measures showed that both MT and UC groups showed an increase in peak hip abductor torque from baseline to follow up but no evidence of a systematic effect between groups was observed (−0.63 Nm; 95% CI: -13.35, 12.09). In terms of peak knee extensor torque, the UC group showed a much larger increase yielding a MD of 7.96 Nm (95% CI -2.88, 18.79;
d
= 0.624).
Table 6
Mechanistic outcomes. Mean (SD) unless otherwise stated
Outcome

Group

Baseline (SD)

Post Rx (SD)

Mean difference (baseline-post) (SD)

Confidence intervals (95%)

Mean difference (MT-UC) (95% CI)

ES (d) (MT - UC)

Hip abductor strength (Nm)

MT

91.02 (28.45)

99.40 (27.89)

8.39 (15.28)

−17.62, 0.85

−0.63 (−13.35, 12.09)

−0.04

UC

81.82 (31.76)

89.57 (33.43)

7.76 (14.59)

−17.56, 2.05

Knee extensor strength (Nm)

MT

91.44 (28.21)

93.12 (27.19)

1.677 (14.57)

−10.48, 7.12

7.96 (−2.88,18.79)

0.62

UC

94.32 (44.10)

103.95 (46.09)

9.64 (10.15)

−16.46, − 2.82

Peak Hip Adduction (°)

MT

5.74 (2.70)

5.92 (2.79)

−0.17 (2.84)

−1.89, 1.54

−0.14 (−3.12, 2.85)

0.04

UC

3.70 (3.68)

3.74 (4.99)

−0.04 (4.18)

−2.84, 2.77

Peak Hip Internal Rotation (°)

MT

−4.49 (3.26)

−5.95 (5.26)

1.45 (4.98)

−1.56, 4.46

1.70 (−2.56, 5.97)

−0.34

UC

−6.11 (4.82)

−5.86 (7.22)

−0.25 (5.06)

−3.65, 3.15

Total coronal hip ROM (°)

MT

9.77 (3.62)

9.29 (2.60)

0.47 (2.19)

−0.86, 1.79

1.12 (−0.72, 3.06)

−0.53

UC

10.04 (4.69)

10.74 (4.79)

−0.70 (2.27)

−2.23, 0.82

Total transverse hip ROM (°)

MT

11.08 (2.65)

11.39 (2.08)

−0.32 (2.49)

−1.83, 1.19

0.46 (−1.45, 2.38)

−0.20

UC

9.12 (5.76)

9.90 (5.02)

−0.78 (1.93)

−2.08, 0.52
The between-group comparisons of the kinematics showed that the MT group had a reduction in peak IR whereas the UC had a slight increase (1.70°; 95% CI: −2.56, 5.97) yielding a small effect size (d = −0.34). Both MT and UC groups showed an increase in peak ADD (−0.17° vs. -0.04° respectively). Coronal ROM showed that the MT group had a reduction whereas the UC group showed a slight increase (1.12°; 95% CI: −0.72, 3.06) yielding a medium effect size (d = −0.53). Transverse ROM showed an increase in both the MT and UC groups (−0.32° vs. -0.78° respectively.
The within-group comparisons of the kinematic outcomes are presented in Fig.
3
. The MT intervention led to a reduction in peak IR of 13.1% of the total transverse ROM. There was a small reduction in coronal ROM (4.8%) whilst peak ADD and transverse ROM demonstrated a small increase. The UC group demonstrated an increase for all kinematic variables.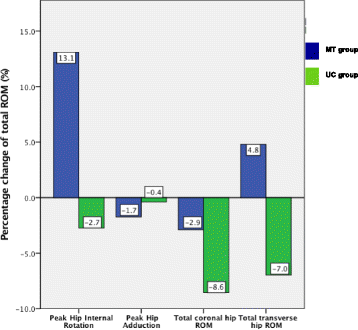 Discussion
The aims of this study were: i) to determine the feasibility of treatment matched to the specific characteristics of selected PFP sub group and ii) to explore the proposed mechanism of effect of employing strengthening in a subgroup with baseline hip weakness. A definitive randomised controlled trial (RCT) appears achievable in terms of adherence, attrition, eligibility and outcome data. Some consideration is required to develop strategies to enhance the ability to quantify clinical differences between groups. In terms of the potential mechanism of effect for hip strengthening, an improvement was shown for peak IR following MT.
Feasibility outcomes
Based on our eligibility thresholds for selecting a 'weak' hip group, we predetermined that for feasibility; eligibility should reach or exceed 32%. Our observed eligibility rate of 37% provides reassurance. It is also expected that other people with PFP, ineligible for the current study based on hip strength, may well classify into other subgroups as shown in recent studies [29]. This eligibility rate for hip weakness is less than the 88% (at 1SD) reported by Selfe et al. (2016) [29] but may be explained by the current study measuring an isokinetic contraction rather than an isometric contraction and as a consequence the different strength thresholds applied. Furthermore in order to minimise potential bias, future multicentre RCTs would need to ensure cross-site calibration of the isokinetic systems and site visits to monitor fidelity of the testing procedures and the intervention.
Recent studies have reported that a greater adherence to treatment is associated with increased probability of better outcomes [2]. An adherence to treatment and adherence to appointments over 90% is promising. Approximately 30% (4/13) achieved complete adherence to all treatment sessions and 9% of appointments required rearranging. Our adherence rate is comparable to a larger RCT [18] who found a 80.3% adherence rate for a 6 week hip strengthening in PFP. It's anticipated that rearranging appointments for participants would be more challenging for a larger sample over multiple sites. Consequently, strategies to enhance adherence with the use of activity monitoring technology and reminder services need to be considered [56].
No differences between groups were found for either the average or worst NRS values. This might be explained by the difference in almost a score of one in average baseline NRS, a feature that would likely be minimised in a larger full-scale trial. Previous RCTs [18, 57] have also used eligibility criteria requiring a minimum NRS score of three out of 10 pain score. Setting a minimum pain score as part of the inclusion criteria is suggested for a future RCT.
The difference between groups for the AKP score did not reach the predetermined minimal clinically important difference (MCID) of eight points [58], although there was a trend towards a meaningful benefit. These findings are similar to the only other RCT to have stratified a PFP cohort, used in a study of a foot orthotic intervention over 6 weeks. Mills et al. (2011) [12] selected their participants based on predictors shown to predict success with orthotics, which included age, height, baseline pain severity and a static foot measure. They also found a significant difference between groups in terms of GROC with no differences in AKP score or VAS pain. They suggest that GROC is able to capture the multidimensional nature of PFP (characterised by pain, disability and functional limitation) compared to AKP score and VAS pain which are more one dimensional [12].
Mechanistic outcomes
Stratifying for hip abductor weakness led to a reduction of approximately 13% for peak IR in the MT group following strengthening treatment. This is important considering that an increase peak IR has been associated with PFP during stair descent [59, 60]. This reduction in peak IR occurred with a slight worsening of their transverse ROM suggesting that following treatment, people in the MT group were initiating stance phase in a more desirable externally rotated hip position. A reduction in peak IR and a slight increase in peak ADD are perhaps surprising considering that participants were stratified for hip abductor weakness. However, recent strength measures conducted on 501 healthy athletes [61] have shown that hip abductor and hip external rotation strength are highly correlated (r = 0.66) indicating this subgroup were likely to have also demonstrated weakness into both hip abduction and external rotation.
Hip strength increased in both groups by a similar difference, which is likely the result of over a third of participants in the UC group being engaged in physiotherapy. Post-hoc analysis of those participants in the UC group who received no treatment show an increase of only 3.9 Nm in hip abductor strength (results not shown). In the MT group the change in hip strength was 9%, which is a comparable improvement to previous hip strengthening programmes over a similar training duration [21, 27]. The increase in strength for both groups but with only kinematic improvements seen in the MT group might suggest that strength, on its own, cannot explain the improvement seen in peak IR. Direct comparison with previous studies [17, 26–28] remains difficult due to the differences in assessment tasks (e.g. running, stairs etc.) and the specific kinematic outcomes (e.g. peak, average angles etc.) investigated. Previous studies [27, 28] that have observed the effect of hip strengthening on running kinematics in people with PFP found no change in kinematics despite increases in hip abductor strength. Only Baldon et al. (2014) [17] reported changes in kinematics, during a single leg squat, following a hip strengthening programme. Yet, this training programme, did include constant feedback on lower limb alignment which suggests a more movement retraining approach [62] rather than pure strength training. It remains possible that the improvements observed in peak IR in the current study was the result of using progressive loading within a tailored treatment regime and selecting participants who were most likely to benefit from strengthening.
Limitations
This feasibility study presents with several limitations. Firstly, the study was performed in a single centre. Future RCTs would be required to be multicentre to improve generalisability, which is anticipated to introduce new feasibility issues. The findings of the current study would, however, inform the documentation of standard operating procedures in terms of recruitment; data collection and intervention provision to ensure any future study could be operationalised across different geographical locations. Secondly, the current study did not blind assessors to group allocation, which could lead to potential bias [63]. Every effort was made for participants to complete PROMs in isolation and objective biomechanical outcomes were acquired in accordance with strict protocols with little chance of introducing bias. Future RCTs should make every effort to introduce outcome assessor blinding and consider measuring the level of this outcome assessor blinding [64] Thirdly, the use of a UC group was intended to represent the heterogeneity of management available in real, daily practice and thus improve the external validity [65]. For the purposes of exploring the mechanism of hip strengthening, however, the fact that over half of the UC group received physiotherapy input potentially dilutes the between-group findings. Comparison with a control group receiving no active intervention would remedy this issue.
Conclusion
The potential benefits associated with stratification and subgrouping within PFP have been advocated since the first International Patellofemoral Pain Retreat Consensus statement [10]. This study suggests that targeted treatment provides a greater improvement in overall function and self-reported improvement in comparison to usual care. Additionally, the improvements seen in peak IR following MT suggest this may be a plausible mechanism of effect for hip strengthening when treatment is matched to an appropriate subgroup. Strategies to enhance the ability to detect clinical difference should be considered and might be improved by selection of participants with a minimum pain score. Ultimately, a pragmatic, multicentre RCT with a sufficiently powered cohort appears achievable and should be conducted to determine the clinical and cost-effectiveness of a stratified treatment approach versus usual care for people with PFP.
Abbreviations
3D:

three dimensional
AKPS:

anterior knee pain scale
CONSORT:

consolidated standards of reporting trials
Coronal ROM:

total coronal hip range of movement
GP:

general practitioner
GROC:

global rating of change scale
MCID:

minimal
MT:

matched treatment
Nm:

Newton metre
NRS:

numerical rating scale
Peak ADD:

peak hip adduction angle
Peak IR:

peak hip internal rotation angle
PFP:

patellofemoral pain
PROM:

patient reported outcome measures
RCT:

randomised controlled trial
ROM:

range of movement
RPE:

rate of perceived exertion
SD:

standard deviation
TiDieR:

template for intervention description and replication guidelines
Transverse ROM:

total transverse hip range of movement
UC:

usual care
UTA:

unable to attend

IMMPACT

Initiative on Methods, Measurements and Pain Assessment in Clinical Trials
Declarations
Acknowledgements
We would like to thank Professor Kay Crossley of La Trobe University, Melbourne and Claire Robertson of Wimbledon Clinics, London for their insightful comments regarding the development of the intervention and to both Dr. David Lunn and Dr. Graham Chapman of University of Leeds for their guidance on the motion capture analysis.
Funding
BTD is funded by a National Institute for Health Research (NIHR) Clinical Doctoral Research Fellowship (CDRF -2013-04-044); PGC and ACR are in part supported through the NIHR Leeds Biomedical Research Centre, Leeds, UK. This paper presents independent research funded by the National Institute for Health Research (NIHR). The views expressed are those of the authors and not necessarily those of the NHS, the NIHR or the Department of Health. This work was also supported in part by funding from the Arthritis Research UK Experimental Osteoarthritis Treatment Centre (Ref 20,083) and the Arthritis Research UK Centre for Sport, Exercise and Osteoarthritis (Ref 20,194).
Authors' contributions
BTD takes responsibility for the integrity of the work as a whole, from inception to the finished manuscript. Conception & design: BTD, PGC, ACR, JS and TOS. Collection & Assembly of Data: BTD, ACR and PGC. Analysis & Interpretation of the data: BTD, PGC, ACR, JS and TOS. Drafting & final approval of the manuscript: BTD, PGC, ACR, JS and TOS.
Ethics approval and consent to participate
Written informed consent was obtained from all patients prior to randomisation and the study was approved by the North East - Newcastle & North Tyneside 2 Research Ethics Committee (14/NE/1131); NHS Health Research Authority (IRAS 154658).
Consent for publication
Written informed consent for publication of clinical images was obtained from all patients. Copies of the consent forms are available for review by the Editor of this journal.
Competing interests
The authors declare that they have no competing interests.
Publisher's Note
Springer Nature remains neutral with regard to jurisdictional claims in published maps and institutional affiliations.
Open AccessThis article is distributed under the terms of the Creative Commons Attribution 4.0 International License (http://creativecommons.org/licenses/by/4.0/), which permits unrestricted use, distribution, and reproduction in any medium, provided you give appropriate credit to the original author(s) and the source, provide a link to the Creative Commons license, and indicate if changes were made. The Creative Commons Public Domain Dedication waiver (http://creativecommons.org/publicdomain/zero/1.0/) applies to the data made available in this article, unless otherwise stated.
Authors' Affiliations
(1)
Leeds Institute of Rheumatic and Musculoskeletal Medicine, Chapel Allerton Hospital, Leeds, UK
(2)
NIHR Leeds Biomedical Research Centre, Leeds, UK
(3)
School of Health Sciences, University of East Anglia, Norwich, UK
(4)
Department of Health Professions, Manchester Metropolitan University, Manchester, UK