Research article
Open Access
Open Peer Review
This article has Open Peer Review reports available.
Factors influencing the crystallization of monosodium urate: a systematic literature review
BMC Musculoskeletal Disorders
2015
16:296
Received: 22 June 2015
Accepted: 8 October 2015
Published: 14 October 2015
Abstract
Background
Gout is a chronic disease of monosodium urate (MSU) crystal deposition. Although hyperuricaemia is the central risk factor for development of gout, not all people with hyperuricaemia have subclinical MSU crystal deposition or indeed, symptomatic disease. The aim of this systematic literature review was to identify factors that contribute to MSU crystallization.
Methods
A search was conducted of the electronic databases PubMed, Science Direct and Scopus. Articles were included if they contained original data related to MSU crystallization. The methods and results were summarized and categorized into articles describing at least one of the three key steps in MSU crystallization (reduced urate solubility, nucleation and growth).
Results
A total of 2175 articles were initially identified in our systematic search with 35 of these articles included in the final analysis. Elevated urate concentration was identified as a central factor driving all three stages of MSU crystallization. Factors that were found to consistently reduce urate solubility were reduced temperatures, pH 7–9 and various ions including sodium ions. Connective tissue factors including bovine cartilage homogenates and healthy human synovial fluid and serum all enhanced urate solubility. MSU nucleation was found to be increased by a number of factors, including sodium ions, uric acid binding antibodies, and synovial fluid or serum from patients with gout. Other than elevated urate concentrations, no other specific factors were identified as promoters of MSU crystal growth.
Conclusions
Increased urate concentration is the key factor required at each stage of MSU crystallization. Different proteins and factors within connective tissues may promote MSU crystallization and may be important for determining the sites at which MSU crystallization occurs in the presence of elevated urate concentrations.
Keywords
Urate solubilityCrystallizationNucleationCrystal growthGout
Background
Gout is a chronic disease of monosodium urate (MSU) crystal deposition. The clinical features of gout occur due to host tissue responses to these crystals [1]. Four phases or stages of disease have been proposed [2, 3]: A: asymptomatic hyperuricaemia, without evidence of MSU crystal deposition; B: asymptomatic hyperuricaemia and evidence of MSU crystal deposition (by microscopy or advanced imaging); C: MSU crystal deposition with prior or current symptoms of acute gout flares; D: advanced gout (tophi, chronic gouty arthropathy, bone erosion).
Hyperuricaemia is the central risk factor for development of gout [4]. However, many people with hyperuricaemia do not have subclinical MSU crystal deposition or indeed, symptomatic disease. For example, a recent dual energy computed tomography study has shown that only 24 % of asymptomatic individuals with serum urate concentrations >9 mg/dL had imaging evidence of MSU crystal deposition [5]. Similar findings have been reported in ultrasonography studies of individuals with asymptomatic hyperuricaemia [6–8]. A further important observation is that MSU crystal deposition occurs preferentially at certain sites, particularly the 1st metatarsophalangeal joint, femoral condyle, Achilles tendon, and patellar tendon [9, 10]. Collectively, these data suggest that factors in addition to urate concentration contribute to MSU crystallization.
Viewed microscopically, MSU crystals are needle-shaped with a triclinic structure containing three unequal axes, none of which are perpendicular to the others [11, 12]. At the molecular level, the long axis of a three-dimensional MSU crystal is made up of sheets of closely spaced purine rings orientated parallel to the (011) plane. These sheets are stacked one on top of the other. Each purine ring contains urate anions aligned closely together through hydrogen bonding, and water molecules which are held in place by coordination to two sodium ions and by one hydrogen bond to the purine ring. The stacking interactions between the sheets and interlayer coordination to sodium ions results in twisting of the urate ion 7.7° out of the (011) plane. These interactions are required for urate ions to maintain octahedral geometry about the sodium ion [11, 12].
In general, three keys steps are required for crystal formation from a liquid mixture [13]; reduced solubility (leading to supersaturation), nucleation (which involves formation of clusters of solute molecules that ultimately reach a critical size and become stable) and crystal growth (subsequent growth of stable nuclei). Supersaturation drives both nucleation and growth of crystals, and controls the rate of crystal formation [13]. Using this general framework of crystal formation, we performed a systematic literature review with the aim of identifying factors that contribute to MSU crystallization in gout.
Methods
A systematic search strategy was formulated to identify factors that contribute to MSU crystallization. This analysis was conducted in concordance with Preferred Reporting Items for Systematic Reviews and Meta-analyses (PRISMA) guidelines [
14
]. Electronic searches were performed in the following online databases: PubMed, Science Direct and Scopus. The following search keywords were used: "uric", "urate", "crystal*", "grow*", "form*", "precipitat*", "solub*" and "nucleat*". The PubMed database indicated that the truncation "form*" had over 600 variations and omitted some search results when this truncation was used. For this reason, search words used instead of "form*" in the PubMed search were "form", "formation", "forming" and "formed". An example of the search strategy is shown in Fig.
1
. Data sources were English publications from these databases. No date restrictions were used (earliest database search date was 1946). The search was completed on 1st December 2014. Articles were included if they contained original data related to MSU crystallization. Congress abstracts were not searched or included in the current analysis. Exclusion criteria were: review article with no original work or data on MSU crystallization; not in English; no focus on MSU crystallization (e.g. focused on mechanisms of hyperuricaemia, crystal coating, the inflammatory response or renal function); primarily focused on other types of crystals; or related to uric acid nephrolithiasis or urolithiasis. Duplicate articles were removed from the search list. Articles were then excluded by review of titles and abstracts by two independent reviewers (AC and GL). For the remaining articles, the full text was reviewed to identify articles that met the inclusion criteria. Bibliographic references of individual publications were also identified and reviewed during this stage (Fig.
2
).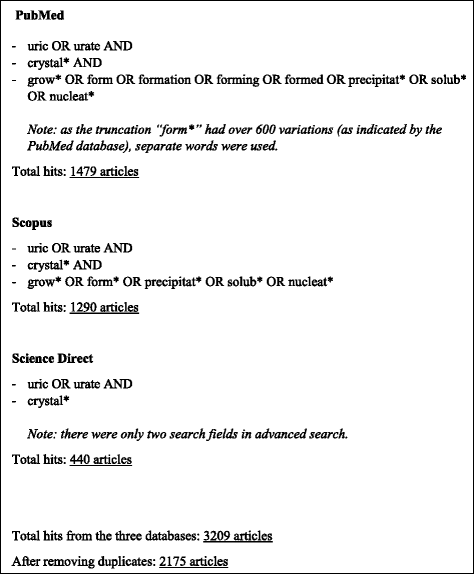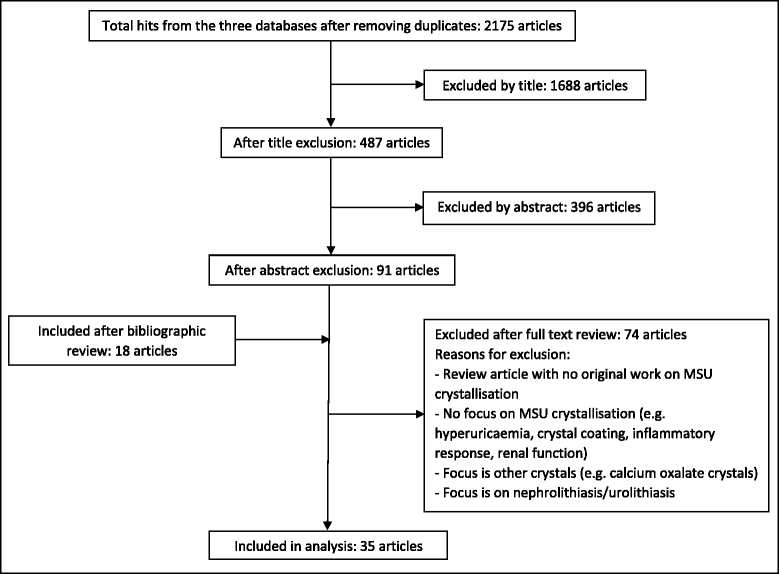 Each article that fulfilled inclusion criteria was then assessed by two independent reviewers (AC and GL). The methods and results were summarized and categorized into articles describing one or more of the three key MSU crystallization steps (solubility, nucleation and growth). The specific factors assessed (e.g. pH, temperature, connective tissue factors and proteins, concentration of ions, antibodies, kinetics, crystal morphology and other), and the types of assay used in each study (in vitro, ex vivo, in vivo) were recorded.
A quality score was also determined. As a quality score has not been described for systemic literature reviews of laboratory studies, we devised the following score expressed as a number out of 4, determined by the sum of four questions (each positive answer scored as 1): was there a clear statement of the aims of the research?; is the method appropriate for the study aims?; are the results stated consistent with the results presented? i.e., do the figures, or data presented support the written results?; and do the results/data justify the conclusions made?
Discussion
This analysis has identified elevated urate concentrations as the main factor required for the three stages of MSU crystallization, including reduced urate solubility, MSU nucleation and MSU crystal growth. Urate solubility was also shown to be significantly influenced by various ions including sodium ions, temperature and pH, with colder temperatures and slightly basic conditions shown to be the ideal environment for MSU crystallization to occur. Uric acid binding antibodies, globulins, collagen, lead and human serum or synovial fluid were all shown to promote MSU crystallization at the nucleation stage. Increased urate concentration was the only factor identified in this analysis as a specific promoter of MSU crystal growth (Fig.
3
).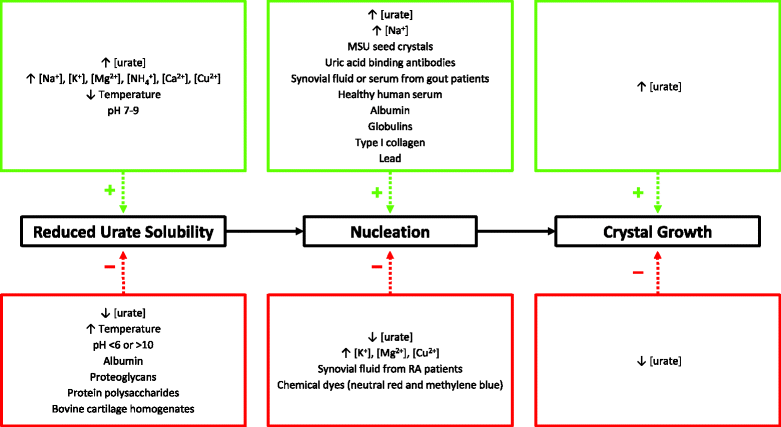 It is currently not known why MSU crystals form in some hyperuricaemic individuals but not others. In patients with MSU crystal deposition and gout, there must be other factors present within the serum or joints of these individuals that promote MSU crystallization in the presence of elevated tissue urate concentration. Indeed, some of the studies included in this analysis indicate that the synovial fluid from these patients does reduce urate solubility and enhance MSU nucleation [20, 22, 27, 32, 37, 40]. However, the number of samples assessed was usually small, sometimes with only one patient sample examined. In addition, for the urate solubility studies, synovial fluid and serum samples from healthy individuals were not assessed and compared to samples taken from patients with gout [27, 32]. Therefore, it is still not clear whether all human synovial fluid and serum reduces urate solubility, or if this effect is specific to synovial fluid and serum taken from patients with gout or other forms of arthritis. Studies using samples from a greater number of people, including healthy individuals, will provide more insight.
High urate concentration was found to be crucial for driving MSU crystallization at all three stages (reduced solubility, nucleation and growth). No other factor was found to influence all three stages of crystallization, although this is not necessarily because no other factor has a role in each stage, but simply because all other factors have not been studied as extensively. Most studies investigated changes in urate solubility or MSU nucleation.
While most of the evidence published was very robust and there was general agreement between studies, there were some factors tested that have had conflicting results reported, particularly for connective tissue factors and proteins, such as glycosaminoglycans, albumin and hyaluronate [20, 28, 30–32]. Different protein sources, experimental conditions and methods may account for these discrepancies. In addition, some concentrations used in the in vitro assays were quite low or may not have reflected physiological concentrations; use of higher concentrations may have led to different results [41].
Most of the studies described in this analysis used in vitro methods to study MSU crystallization and typically only investigated one change in condition or factor at a time. However, in vivo, urate molecules and MSU crystals are surrounded by connective tissue factors and proteins, as well as other biological factors, such as complement proteins (important for the inflammatory response to MSU crystals) and antibodies. The interactions between these factors may also have a role in MSU crystal formation.
The preference for MSU crystals to form on cartilage surfaces is well documented [44] and joints affected by previous trauma or osteoarthritis are more likely to be affected by MSU crystal deposition [43]. Consistent with these clinical observations, many factors and proteins within connective tissues were found to influence urate solubility and MSU nucleation. The physical structure of connective tissues may also influence MSU crystallization and growth. Histological studies have shown that MSU crystals are present within the joint aligned to collagen fibres within the tendon in a highly organized manner [53]. Similarly, crystals identified within cadaveric cartilage from a patient with gout using scanning electron microscopy were arranged in specific bow-shaped bundles [54]. In the current review, the addition of various connective tissue factors and proteins to in vitro growth assays was shown to influence MSU crystal lengths [41, 52], although the direction of these effects were difficult to interpret as the main focus of these studies was to determine the variation in crystal lengths with these additional factors, rather than whether or not these factors were specifically promoting or inhibiting MSU crystal growth. Collectively, these findings suggest that the physical environment in which MSU crystallization occurs may influence growth patterns.
In vitro studies have shown that urate solubility is lowest in slightly basic conditions [18, 20]. This seems somewhat contradictory to the clinical observation that cartilage surfaces are slightly acidic in osteoarthritic joints, and these surfaces become more acidic as cartilage destruction progresses [55]. At the reported pH of human osteoarthritic cartilage (pH 5.5–6.2) [55], urate solubility is actually still very low and mono-protonated urate ions remain the predominant species present within this pH range [23], suggesting that MSU crystallization does still occur in these slightly acidic conditions. In addition, enzymes such as cathepsin K are specifically activated at lower pH values and lead to further degradation of cartilage in osteoarthritic joints [55–57]. This increased enzyme activity is likely to result in a local increase in matrix breakdown products which may serve as MSU crystal nucleation sites, further promoting MSU crystallization at sites of osteoarthritis. A systematic analysis of the effect of cartilage tissue and specific cartilage factors on MSU nucleation would provide more insight as to why MSU crystals preferentially form and deposit on cartilage surfaces, particularly those affected by osteoarthritis.
One of the most interesting findings of this review has been that very few studies related to MSU crystallization have been published in the last 20 years. This result suggests that research into the crystallization of MSU has not been an active area of gout research in recent times. The continuation of this work using more recent advanced imaging technologies and laboratory methods will be of great benefit to further improve our knowledge of why and how MSU crystallization occurs in patients with gout.
Conclusion
In this systematic literature review of factors involved in the crystallization of MSU, elevated urate concentration was consistently identified as the key factor required for all three stages of MSU crystallization. Other factors shown to be important for controlling urate solubility included sodium ions, colder temperatures and slightly higher pH levels. Increased MSU nucleation has been reported in the presence of human serum or synovial fluid and various isolated connective tissue proteins. Other than locally increased urate concentrations, no additional factors were identified as specific promoters of MSU crystal growth. Further research examining the role of connective tissues in MSU crystallization will ultimately enhance our understanding of the biological basis of gout and may give insight into why only a subset of people with hyperuricaemia eventually develop gout.
Declarations
Acknowledgements
This study was funded by the University of Auckland Faculty Research Development Fund (9801/3704255) (AC) and a University of Auckland summer student scholarship (GL).
Open AccessThis article is distributed under the terms of the Creative Commons Attribution 4.0 International License (http://creativecommons.org/licenses/by/4.0/), which permits unrestricted use, distribution, and reproduction in any medium, provided you give appropriate credit to the original author(s) and the source, provide a link to the Creative Commons license, and indicate if changes were made. The Creative Commons Public Domain Dedication waiver (http://creativecommons.org/publicdomain/zero/1.0/) applies to the data made available in this article, unless otherwise stated.
Authors' Affiliations
(1)
Bone & Joint Research Group, Department of Medicine, University of Auckland, Auckland, New Zealand