Research article

Open Access

Open Peer Review
This article has Open Peer Review reports available.
Expression and localization of estrogen receptor-β in annulus cells of the human intervertebral disc and the mitogenic effect of 17-β-estradiol in vitro
BMC Musculoskeletal Disorders
2002
3:4
Received: 23 October 2001
Accepted: 17 January 2002
Published: 17 January 2002
Abstract
Background
Recent evidence suggests that estrogens exert effects in different tissues throughout the body, and that the estrogen receptor β (ERβ) may be important for the action of estrogen (17-β-estradiol) on the skeleton. The cellular localization of ERβ in the human intervertebral disc, however, has not yet been explored.
Methods
Human disc tissue and cultured human disc cells were used for immunocytochemical localization of ERβ. mRNA was isolated from cultured human disc cells, and RT-PCR amplification of ERβ was employed to document molecular expression of this receptor. Cultured human disc cells were tested to determine if 17-β-estradiol stimulated cell proliferation.
Results
In this report data are presented which provide evidence for ERβ gene expression in human intervertebral disc cells in vivo and in vitro. Culture of annulus cells in the presence of 10-7 M 17-β-estradiol significantly increased cell proliferation.
Conclusions
These data provide new insight into the biology of cells in the annulus of the intervertebral disc.
Keywords
Disc CellDisc TissueGuanidinium ThiocyanateBenign HyperplasiaHuman Intervertebral Disc
Background
Estrogen receptors belong to a single receptor superfamily which also includes receptors for androgens, progesterone, glucocorticoids, mineralocorticoids, thyroid hormone, retinoic acid and vitamin D [1–4]. Estrogen receptor-alpha is expressed in cells which are classic estrogen targets; estrogen receptor-β is a newly described receptor which has now been found in cells of tissues which in the past might not have been traditionally viewed as estrogen targets, including cells in prostate, ovary, vascular cells, astrocytes, cells of the osteoblast lineage, osteoclasts, and articular chondrocytes [5–9]. Annulus cells share a mesenchymal origin with osteoblasts and chrondrocytes. Since no previous work has addressed the question of whether intervertebral disc cells have estrogen receptor-β domains, the present work adds to this list cells found in the annulus of the human intervertebral disc and also demonstrates a proliferative effect of 17-β-estradiol in vitro.
Results
Morphologic identification of ERβ in vivo and in vitro
Localization of anti-ERβ antibodies in formalin-fixed, paraffin embedded disc specimens required antigen retrieval techniques; both cells and embedded tissues utilized an overnight incubation in primary antibody (Figure
1A
and
2A
). Localization was seen in the cytoplasm in all disc cells and was also cytoplasmic in a positive control tissue specimen of benign hyperplasia of the prostate (Figure
3A
). Figure
3B
and
3C
show, respectively, negative controls in the absence of primary antibody (Fig.
3B
) and a specimen run in the presence of antibody and immunizing peptide (Fig.
3C
).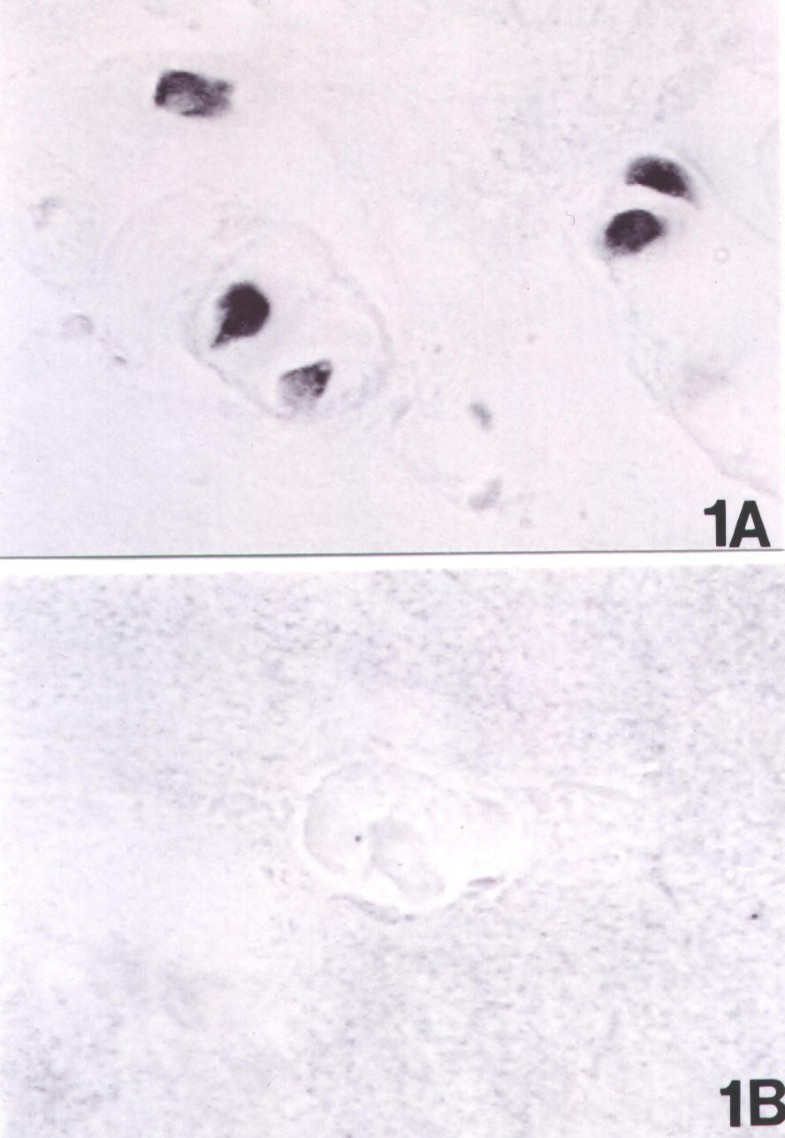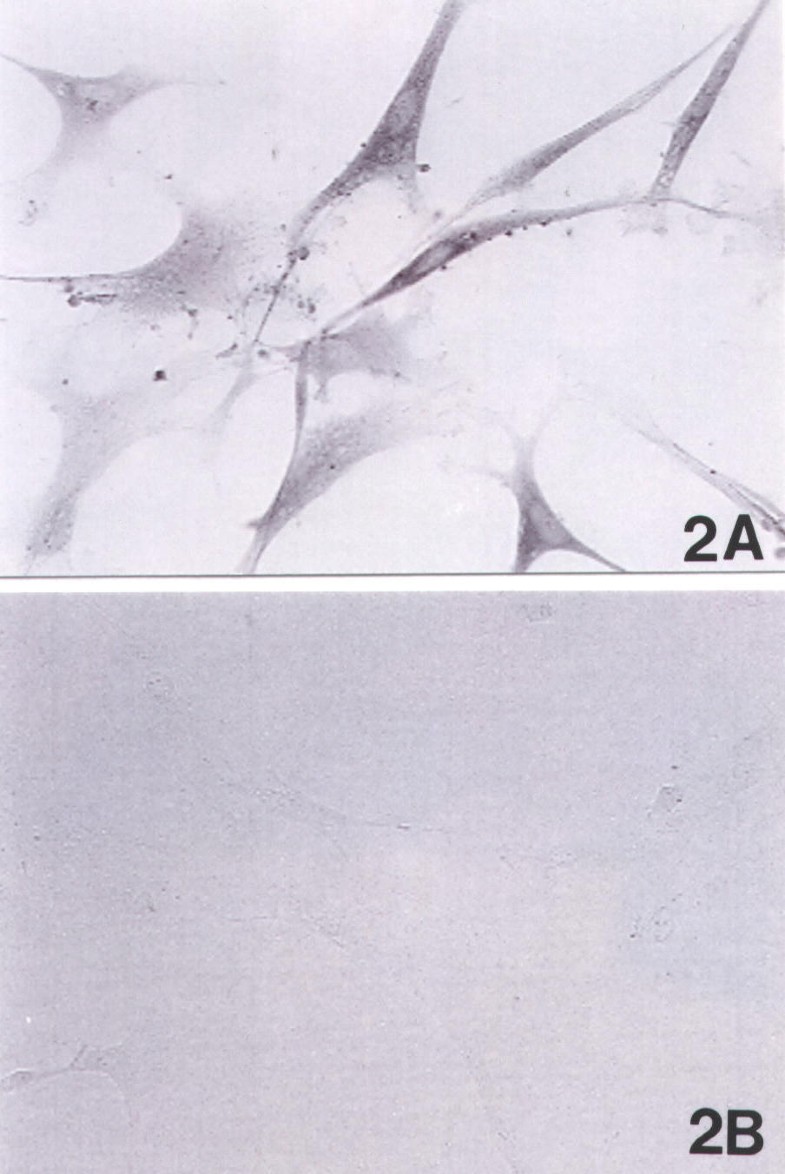 Expression of ERβ
Figure
4
is a photograph of the ethidium bromide-stained agarose gel electrophoresis showing the expression of ERβ and HPRT as single bands of expected sizes (323 bp for ERβ) from RT-PCR amplification of mRNA from the cultured specimens.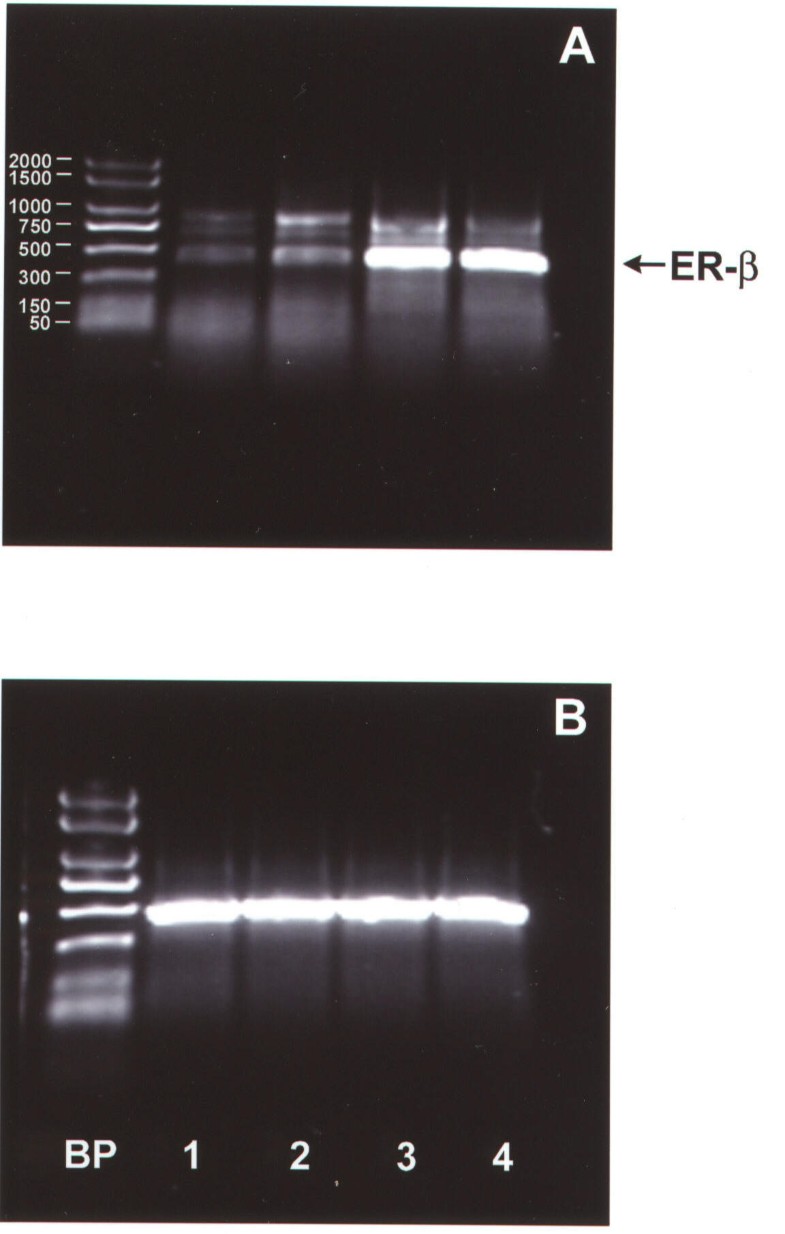 Proliferative Response to 17-β-Estradiol
Cell cultures from the annulus of four individuals were evaluated in a test of the proliferative effect of 17-β-estradiol on disc cells in monolayer culture. Compared to control cells grown in 1% serum (conditions needed for cell maintenance), disc cells exposed to 17-β-estradiol showed significantly increased proliferation (140.1% + 16.8 compared to 99.2% + 32.7 (seen in cells grown under our standard conditions of 20% FBS) (mean + S.D.) (p = 0.034).
Discussion
This report provides novel information on the presence and expression of ERβ in cells in the annulus of the human intervertebral disc. Annulus cells exposed to 10-7 M 17-β-estradiol were also seen to show significantly greater proliferation compared to low serum controls than that which was elicited by growth in 20% FBS. Recent work by Manole et al showed that 17-β-estradiol is a strong mitogen for benign and malignant thyroid tumor cells acting by activation of the mitogen-activated protein kinase pathway [11].
The effect of estrogen on chondrocyte metabolism has recently been reviewed by Ushiyama et al [8]. Higher expression levels of both ERβ and ERalpha were found in articular chondrocytes derived in men compared to those from women. Corvol et al have reported that estrogen stimulated proteoglycan synthesis in rabbit chondrocytes in vitro [12]. Estrogen stimulated cell proliferation in rat chondrocytes from the growth plate [13], but other studies of rabbit chondrocytes failed to show this [14]. The latter study suggested that estrogen had a priming effect on the biological action of IGF-1. IGF-1 and/or IGF binding protein-5 have been suggested to function in estrogen-induced modulation of PTH action on osteoblast proliferation and cell function in recent work by Nasu et al [15]. Such findings may be relevant to the action of estrogen on disc cells in light of our previous report of the anti-apoptotic effect of IGF-1 on human disc cells [16].
The results presented here with a rabbit anti-estrogen receptor beta primary antibody (Affinity Bioreagents) showed cytoplasmic localization. Previous studies using this antibody have reported cytoplasmic localization in osteoclasts [5] and in Purkinje neurons of rat cerebellum and cells of the murine pituitary gland [20, 21]. A previous study with an antibody produced in a specialized laboratory, however, showed nuclear localization in osteoblasts [9]. Such differences are likely due to specificity and characteristics of the particular antibodies, and point to the need for investigators to become familiar with the specific antibody they are employing since there is no external agency providing antibody certifications (in contrast to the color index system available for histologic stains).
In summary, this report has shown gene expression of ERβ by human cells from the annulus, localization of ERβ in both cultured cells and in disc tissue and the mitotic activity of 10-7 M 17-β-estradiol on cultured disc cells. These findings are important because they provide novel information on the fundamental cell biology of the disc cell and point to the need to explore the effects of estrogen on disc cell numbers and extracellular matrix production.
Conclusions
These findings in cells from the annulus are important because these data provide new information on the fundamental cell biology of the disc cell.
Declarations
Acknowledgements
Supported in part from VA Medical Research Funds (D.Y. and T.A.M.).
Authors' Affiliations
(1)
Orthopaedic Research Biology, Carolinas Medical Center, Charlotte, USA
(2)
Research Service, Education and Clinical Center, Veterans Administration Greater Los Angeles Healthcare System, Los Angeles, USA
(3)
UCLA School of Medicine, Los Angeles, USA
(4)
Plastic Surgery Research Laboratory, Veterans Administration Greater Los Angeles Healthcare System, Los Angeles, USA
Copyright
© Gruber et al; licensee BioMed Central Ltd. 2002
This article is published under license to BioMed Central Ltd. This is an Open Access article: verbatim copying and redistribution of this article are permitted in all media for any purpose, provided this notice is preserved along with the article's original URL.