Research article
Open Access
Open Peer Review
This article has Open Peer Review reports available.
Radiological features do not predict failure of two-stage arthroplasty for prosthetic joint infection: a retrospective case–control study
BMC Musculoskeletal Disorders
2014
15:300
Received: 9 September 2013
Accepted: 27 August 2014
Published: 10 September 2014
Abstract
Background
The management of prosthetic joint infection is complex and there is a lack of standardisation of approaches. We evaluated the role of plain film radiography in predicting prosthesis failure after the first stage of a two-stage revision procedure in a retrospective case–control study.
Methods
Plain films for 41 patients aged 46 to 87 years (mean 69) were assessed by two musculoskeletal specialist radiologists for seven features (retained or new metalwork, retained cement or restrictor, new fracture, local antimicrobial delivery system and drain) we hypothesised may predict for failure. Inter-observer agreement was assessed by Kappa score and logistic regression analysis was performed to evaluate the relationship of the seven radiological features adjusting for patient age, gender and number of previous revisions.
Results
There was substantial inter-observer agreement, with a Kappa score of 0.73 (95% CI 0.72-0.74) for all data points collected. Concordance was 100% for evaluating the presence or absence of an antimicrobial delivery system or drain, with lower consensus for evaluating cement (Kappa 0.60, 95% CI 0.35-0.84) and fractures (Kappa 0.59, 95% CI 0.31-0.87). None of the variables' conditions significantly predicted failure.
Conclusions
Our findings support the opinion that surgical expertise which maximizes removal of foreign material is sufficient in conjunction with antibiotic therapy.
Keywords
Joint infection prosthesisOutcome measuresRadiology
Background
Prosthetic joint infection (PJI) is a miserable complication of surgery that was undertaken to improve quality of life, and management requires skilled decision making. PJI occurs in up to 2% of primary hip and knee arthroplasties[1, 2] although reporting rates vary. Successful management of PJI requires eradication of infection and restoration of joint function. The "gold standard" management for complex cases has been advocated as two-stage revision[3, 4], consisting of removal of as much prosthetic material and cement as possible, followed by a prosthesis-free period with adjuvant intravenous/oral antibiotic therapy before a new prosthesis is sited, although excellent outcomes from single stage revisions are achievable in selected patients with favourable characteristics[5]. In two-stage revision plain film X-ray imaging post removal of the infected prosthesis is current practice, but there are limited data on its role in predicting for failure after re-implantation. Our unit, a national referral centre for prosthetic joint infection, provided an ideal setting for such a study, using a registry of patient characteristics and outcomes[6]. We therefore conducted a retrospective case–control study of prosthetic joint infection cases managed by two-stage revision at our unit, to evaluate the role of plain film imaging post first-stage.
Methods
Study population
Cases and controls with at least 6 months of follow-up data were identified from the registry of patients undergoing two-stage revision surgery for prosthetic joint infection at our national referral centre. There was no research-related contact with patients. In response to our enquiry, our institutional review board (Oxfordshire Research Ethics Committee) advised informed consent and ethical approval was not required. All activity was conducted in accordance with the Declaration of Helsinki, and national and institutional standards. Prosthetic joint infection was defined as patients having a clinical syndrome of arthroplasty infection (any of persistent inflammation in the tissues around the implant, wound discharge or implant loosening) with one or more of the following: bacterial growth of an indistinguishable organism from two or more deep periprosthetic tissue samples; histology of periprosthetic tissues indicative of infection; or a persistent sinus tract.
Patients were managed by a specialist multi-disciplinary team including orthopaedic surgeons and infectious diseases physicians. All patients underwent intra-operative sampling in multiple of infected material for microbiology and histology at the first stage (removal of infected prosthesis). Antibiotic therapy was as described previously[
6
]. Briefly, patients received empirical intravenous meropenem and vancomycin post-operatively and the antibiotic therapy was rationalized once microbiological culture results were available. Patients received six weeks of intravenous therapy as the gold standard and had a minimum of two weeks without antibiotics prior to second stage. Despite most patients having a minimum of two weeks without antibiotics prior to first-stage surgery, culture-negative results were common in this cohort[
6
]. Coagulase negative staphylococci were the micro-organisms most frequently isolated, followed by
Staphylococcus aureus
and diptheroids. We analysed the post first-stage radiographs for seven described and novel criteria that we hypothesized may predict for failure. The presence or absence of the following seven features was assessed: retained metalwork (not shown), new metalwork (Figure
1
a), retained cement (Figure
1
b), retained restrictor (a radio-opaque plug inserted in the medullary canal during prosthesis placement to restrict the area of cement, Figure
1
c), new fracture (Figure
1
d), local antimicrobial delivery system (for example gentamicin loaded beads, Figure
1
e) and drain (Figure
1
f). Treatment failure was defined as sinus drainage after reimplantation, a requirement for revision surgery or amputation.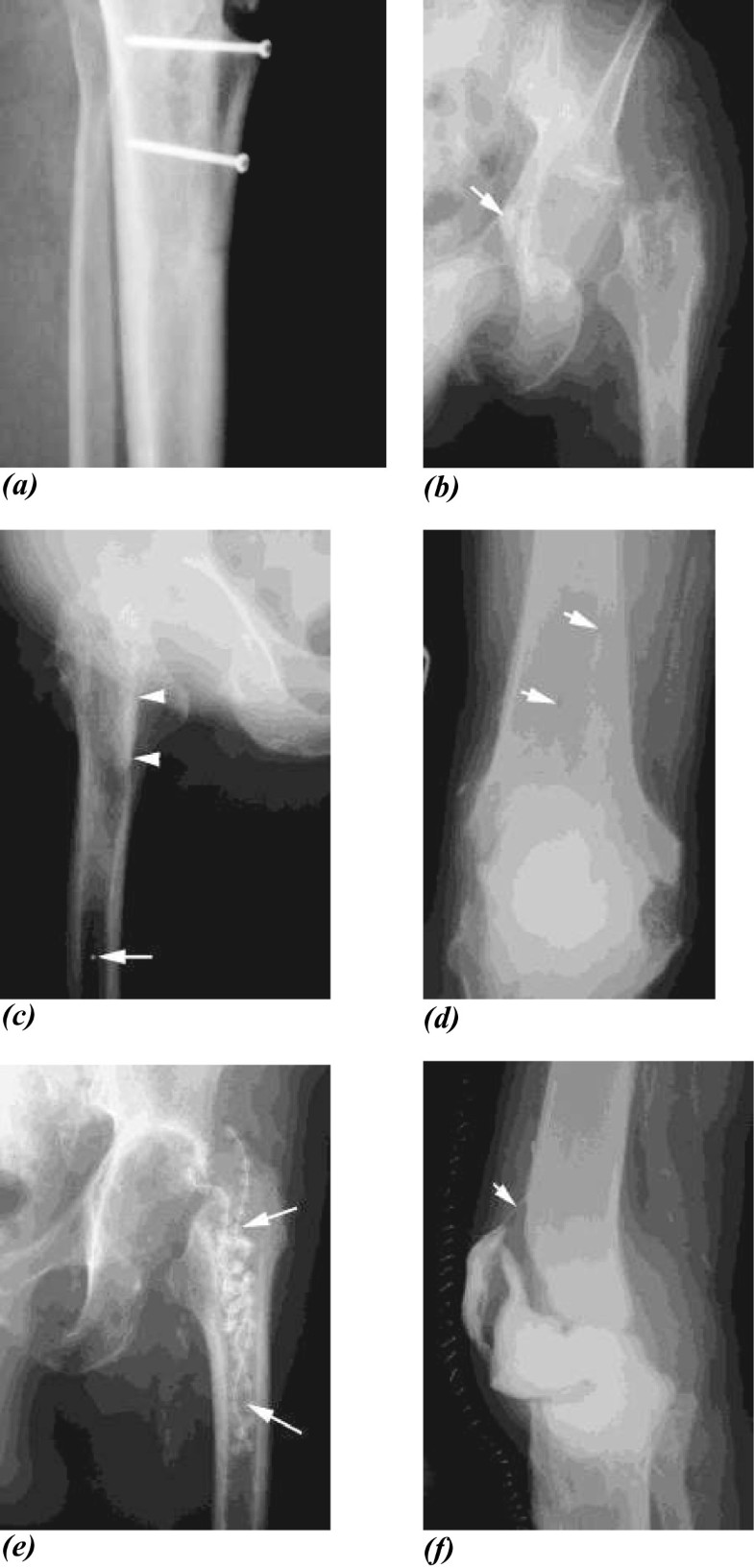 Radiograph review
Subjects in this study underwent surgery before the hospital installed PACS (Picture archiving and communication systems) for viewing radiographs electronically. Therefore radiograph films were obtained from an off-site archive. Radiographs were reviewed independently by two specialist musculoskeletal radiologists blinded to outcome. Pre-operative radiographs were used to aid analysis, where available.
Analysis
Statistical analysis was performed using SPSS/PAWS Statistics 18 and Stata 10. Inter-observer consensus was evaluated by Kappa score. Binary logistic regression analysis for the seven variables was performed with correction for age, gender, and number of previous revisions, and odds ratios calculated with 95% confidence intervals. Significance was judged to be a P value of less than 0.05. Results were expressed graphically with GraphPad Prism 5.
Conclusions
This study provides novel data for an under-researched field and suggests that plain-film radiological evidence of retained foreign material in our unit does not predict for failure in two-stage revision arthroplasty. Good consensus of opinion was found between two musculoskeletal radiologists in assessing radiographs. Although plain radiographs after first-stage revision for infection cannot predict failure, their use in clinical practice is imperative as they help the surgeon decide the post-operative management with particular reference to the mobilization and extent of weight bearing that can be safely allowed.
Abbreviations
PJI:

prosthetic joint infection.
Declarations
Acknowledgements
SD was an NIHR Clinical Lecturer during the data collection period of research and currently holds a Wellcome Trust Intermediate Fellowship [WT100174AIA]. PB is funded by the UK Medical Research Council.
Authors' Affiliations
(1)
Bone Infection Unit, Nuffield Orthopaedic Centre, Oxford University Hospitals NHS Trust, Oxford, UK
(2)
Mahidol-Oxford Tropical Medicine Research Unit, Bangkok, Thailand
(3)
Department of Radiology, Nuffield Orthopaedic Centre, Oxford University Hospitals NHS Trust, Oxford, UK
(4)
Department of Orthopaedic Surgery, Nuffield Orthopaedic Centre, Oxford University Hospitals NHS Trust, Oxford, UK
Copyright
© Dunachie et al.; licensee BioMed Central Ltd. 2014
This article is published under license to BioMed Central Ltd. This is an Open Access article distributed under the terms of the Creative Commons Attribution License (http://creativecommons.org/licenses/by/2.0), which permits unrestricted use, distribution, and reproduction in any medium, provided the original work is properly credited. The Creative Commons Public Domain Dedication waiver (http://creativecommons.org/publicdomain/zero/1.0/) applies to the data made available in this article, unless otherwise stated.