Research article

Open Access

Open Peer Review
This article has Open Peer Review reports available.
Physiotherapy movement based classification approaches to low back pain: comparison of subgroups through review and developer/expert survey
BMC Musculoskeletal Disorders
2012
13:24
Received: 1 April 2011
Accepted: 20 February 2012
Published: 20 February 2012
Abstract
Background
Several classification schemes, each with its own philosophy and categorizing method, subgroup low back pain (LBP) patients with the intent to guide treatment. Physiotherapy derived schemes usually have a movement impairment focus, but the extent to which other biological, psychological, and social factors of pain are encompassed requires exploration. Furthermore, within the prevailing 'biological' domain, the overlap of subgrouping strategies within the orthopaedic examination remains unexplored. The aim of this study was "to review and clarify through developer/expert survey, the theoretical basis and content of physical movement classification schemes, determine their relative reliability and similarities/differences, and to consider the extent of incorporation of the bio-psycho-social framework within the schemes".
Methods
A database search for relevant articles related to LBP and subgrouping or classification was conducted. Five dominant movement-based schemes were identified: Mechanical Diagnosis and Treatment (MDT), Treatment Based Classification (TBC), Pathoanatomic Based Classification (PBC), Movement System Impairment Classification (MSI), and O'Sullivan Classification System (OCS) schemes. Data were extracted and a survey sent to the classification scheme developers/experts to clarify operational criteria, reliability, decision-making, and converging/diverging elements between schemes. Survey results were integrated into the review and approval obtained for accuracy.
Results
Considerable diversity exists between schemes in how movement informs subgrouping and in the consideration of broader neurosensory, cognitive, emotional, and behavioural dimensions of LBP. Despite differences in assessment philosophy, a common element lies in their objective to identify a movement pattern related to a pain reduction strategy. Two dominant movement paradigms emerge: (i) loading strategies (MDT, TBC, PBC) aimed at eliciting a phenomenon of centralisation of symptoms; and (ii) modified movement strategies (MSI, OCS) targeted towards documenting the movement impairments associated with the pain state.
Conclusions
Schemes vary on: the extent to which loading strategies are pursued; the assessment of movement dysfunction; and advocated treatment approaches. A biomechanical assessment predominates in the majority of schemes (MDT, PBC, MSI), certain psychosocial aspects (fear-avoidance) are considered in the TBC scheme, certain neurophysiologic (central versus peripherally mediated pain states) and psychosocial (cognitive and behavioural) aspects are considered in the OCS scheme.
Keywords
Neuropathic PainClassification SchemePelvic Girdle PainPain ProvocationFear Avoidance Belief Questionnaire
Background
There is wide variability in the presentation of low back pain (LBP), yet if common characteristics emerge in the assessment that help to distinguish one pain profile from another, they may aid in initial decision-making by defining a dysfunction pattern towards which a targeted intervention is directed. A major goal over several years has been to divide people with LBP into homogeneous populations or 'subgroups' of similar characteristics in an effort to improve patient outcomes [1, 2]. Subgrouping may also help reduce inefficient variability in treatment and provide a helpful communication tool [3]. Multiple disciplines have attempted to distinguish LBP subgroups with various classification schemes [4–6]. Perspectives vary, with focus on improving multidisciplinary dialogue [7–9], examination of the musculoskeletal [10–14] or nervous system [15–17], assessment of psychosocial factors [18–25], or attempts to integrate assessment of multiple systems [14, 26] to variable degrees. Within physiotherapy, a profession with strong background in neuromusculoskeletal evaluation, classification schemes that focus on directing specific treatment have emerged [10–14] and most include evaluation of the relationship between movement and pain.
Surveys of practice of physiotherapists have revealed low use of classification schemes despite evidence that treatment of patients based on subgrouping results in better outcomes than treatment based on clinical guidelines [27]. Usage rates of 7-70% [28–34] have been reported. The prevalence of relatively low use of these classification schemes could be explained by unfamiliarity with these approaches; low perceived value in classification oriented assessment; inability to choose between classification schemes; or a preference for other assessment methods. An alternative reason for the modest implementation of the classification approach may be that assessment schemes do not adequately integrate the multiple dimensions that can contribute to, or perpetuate LBP. It has been argued that a limitation of schemes used in physiotherapy is the limited consideration of psychosocial aspects of LBP [35]. Given current evidence which suggests subgrouping results in better outcomes than non-subgrouping, and the diversity of schemes with varying 'biological' and 'psycho-social' perspectives, it is timely to compare and contrast the dominant schemes within physiotherapy in terms of their underlying philosophies, what they measure, how they overlap and what, if any, additional factors require consideration.
The aims of this review with developer/expert survey were: (1) To identify the classification schemes designed for use by physiotherapists that include a movement component; (2) To review the theoretical basis and key elements for the schemes with clarification by developers/experts; (3) To review reliability; (4) To identify areas of convergence or divergence between schemes; and (5) To determine how each scheme considers various aspects of the bio-psycho-social framework.
Methods
Literature was reviewed to address the study aims and a two-round survey of the schemes' developers/experts was undertaken to verify accuracy of interpretation of the literature, and to gain their consideration of how their approach addresses broader aspects of a bio-psycho-social framework. Figure
1
depicts the study phases. The initial phase involved systematic search of CINAHL, PubMed and Scopus databases to identify studies pertaining to movement-based physiotherapy classification schemes for low back pain published between January 01, 1985 to June 01, 2011 using the key words: "low back pain"; and "classification" or "subgroup"; and "physical therapy" or "physiotherapy". Articles were required to be written in English. The authors of the manuscript (NK, GJ, PH) developed the search strategy and it was implemented by NK.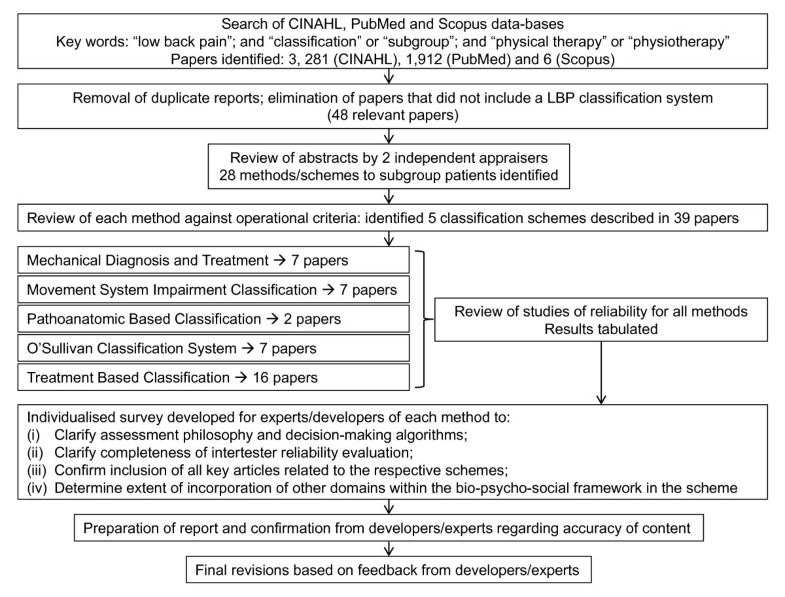 The next phase of the review process involved identification of classification schemes that were aligned to operational criteria we developed for movement-based physiotherapy classification schemes for low back pain. We operationally defined a classification scheme as a clinical assessment method that: (i) was applicable to a 'non-specific' LBP group, (ii) identified multiple subgroups within the 'non-specific' LBP population, (iii) included consideration of examination of movement using specific trunk movement tests to discriminate groups, (iv) defined a decision-making algorithm and proposed treatment, (v) was viable within a typical outpatient orthopaedic setting (i.e. did not require electromyography, three-dimensional movement analysis equipment, or statistical software) and (vi) included data on validity and intertester reliability of proposed subgroups. Two independent assessors reviewed the methods used to subgroup patients with LBP that had been identified in the initial phase of the review to determine the alignment of each to these operational criteria. Additional sources of information were used when data were not available from the identified literature. These sources included other publications by experts/developers for each approach (identified by author's name), textbooks, book chapters [10, 13, 36] and introductory coursework manuals [37–39]. Notes were made regarding the alignment of the schemes against the operational criteria and schemes were included or excluded from further consideration in this review based on the outcome of this phase. Any disagreement between appraisers was resolved through discussion. As viability of subgrouping methods is diminished if it is not consistent between clinicians, additional data was sought for each of the final group of classification schemes regarding reliability and the results tabulated. This phase also involved analysis of the quality of reliability studies according to standardised criteria [40]. Additional file 1 lists the items used in the critical appraisal. Kappa values > 80% were considered to represent excellent agreement; > 60%, substantial agreement; 40-59% moderate agreement; and < 40% poor to fair agreement [41].
An individualised survey was sent to developers/experts (n = 7) for the schemes that satisfied the operational criteria in order to request clarification and further elaboration of any element of the scheme that was unclear from the available literature (i.e. assessment philosophy and decision-making algorithms,), to clarify whether any key articles from their respective schemes were omitted in the initial search strategy and to confirm the completeness and accuracy of the assessment of reliability of the scheme. Developers/experts were also asked to comment on similarities and differences with the other schemes, and to comment on the inclusion of broader bio-psycho-social dimensions within their scheme.
After retrieval of all relevant information from the literature and developer/expert survey responses, the next phase was to review the material for clear areas of convergence and divergence among the 5 classification schemes. Survey results and consideration of convergence and divergence were integrated into the manuscript and the final draft was sent to the developers/experts for final approval of accuracy.
Discussion
Five movement based classification schemes were identified and, from a broad perspective, the theoretical basis and key elements can be generalised into two main approaches. One approach (MDT, TBC, and PBC) is initially guided by evaluation of the response to loading the spine in different directions, and the other (MSI and OCS) is guided by identification of strategies of modified movement along with a process of diagnostics. Inter-tester reliability across schemes varies depending upon the subgroup and level of training, with ranges from 'poor to fair' (PBC), 'moderate' (MDT, TBC, OCS), 'substantial' (MSI), and 'excellent' (OCS).
Several areas of convergence and divergence were identified between schemes. Most share a common clinical reasoning strategy to classify patients into subgroups based on relevance of a specific movement direction to the symptoms in order to direct intervention and predict outcomes. The MDT, TBC and PBC schemes also offer categories for patients who do not fit into a directional preference. MDT, TBC, and PBC schemes converge in their use of repeated spinal movements to investigate the phenomenon of centralisation of pain, but diverge in their relative emphasis on this parameter, the inclusion of additional assessment options, and differences in the recommended treatments. The MSI and OCS schemes share the use of modification of painful movement to aid allocation to a subgroup, but they diverge in their emphasis on impairments, the specific clinical tests used, and the relative emphasis on neurophysiologic and psychosocial factors. Differences between classification philosophies and strategies are greater than similarities. Disparity clearly exists between pursuit of a pathoanatomical source of pain (PBC) versus the disengagement from this model (all other schemes). The MDT scheme places emphasis on ignoring known structural pathology and assesses initial pain response to movement in an effort to determine if the centralisation phenomenon can be elicited. The MSI scheme would consider this an inappropriate strategy for a spinal stenosis condition and the TBC scheme would more likely cease provocative movement testing to determine if manipulation or stabilisation exercises would be of benefit. MDT, TBC, MSI, and OCS schemes are designed around a preferred treatment strategy for each subgroup; however, the PBC scheme deliberately avoids selection of treatment.
Diversity exists across schemes in the extent of their consideration of the biopsychosocial framework. In regards to the psychosocial aspects of LBP, the current emphasis in the majority of schemes (MDT, PBC, and TBC) has been to focus on "magnified illness behaviour" [121] and the "fear-avoidance" [111] model to assess the influence of psychological factors in LBP. The OCS scheme appears to integrate a wider psychological spectrum of the attention, cognitive, beliefs and behavioural aspect of LBP. This viewpoint is based on previous OCS studies, which have used the Tampa Scale for Kinesiophobia [122], Örebro Musculoskeletal Pain Screening Questionnaire, Hopkins Symptoms Check List, and FABQ [87], in addition to the scheme's emphasis on incorporating a biopsychosocial model. There is currently a divergence in opinion on how to address psychosocial aspects of LBP. MDT and PBC schemes preferentially treat the mechanical dysfunction regardless of psychological presentation, with the intention that improvement in symptoms may positively affect the psychological domain [123]. The TBC scheme focuses on one behavioural dimension of pain to guide assessment. The OCS scheme attempts to address the cognitive and behavioural aspects of LBP. Future research could explore which approach best reduces persistent or recurrent pain, or if additional psycho-social dimensions should be assessed (i.e., happiness [124], optimism [125], self-efficacy [126], stress hardiness [127], sense of coherence [128], treatment expectancy [129], life satisfaction [130], mindfulness [131]) from both patient and practitioner [132] perspectives.
Further diversity exists across schemes in the extent of their consideration of the neurophysiological aspects of pain within the biopsychosocial framework. Although the MDT scheme acknowledges a "chronic pain state" category, the definition of this subgroup pertains primarily to dominance of psychological factors and less on pain systems theory. For example, if a mechanical approach did not decrease fear avoidance, then a graded exercise intervention would be applied. The PBC scheme may hold a broader perspective of altered sensory features, by including "abnormal pain state" and "adverse neural tension" categories. The OCS scheme separates pain systems into "centrally mediated" and "peripherally mediated" subgroups, although operational criteria require development. How these subgroups relate to a proposed neuropathic pain grading system [117] remains unknown.
Clinical trials are required to validate the use of subgrouping in low back pain. Although additional work is required to determine the optimal sequence of trials to be conducted, at minimum randomised controlled trials are required to determine whether classification of patients on the basis of these schemes leads to better outcomes for people with low back pain. Additional trials are necessary which investigate the relative importance of different aspects of the schemes for treatment outcome (e.g. consideration of movement vs. psychological perspectives).
Conclusions
Perhaps one reason for the variety of subgrouping schemes lies in the rationale that one assessment method cannot be applicable to all types of patient characteristics, or adequately capture the diverse pool of responses from a single assessment strategy. In contrast, the broad selection of schemes may symbolize a beneficial diversity in assessment viewpoints, or hold insight on proficient and deficient elements within classification systems. It would be of interest to examine which patient profiles respond more favourably to a 'repeated movement' approach or a 'modified movement approach'.
The question has been raised as to whether existing schemes adequately identify the presence of neuropathic pain, which may have implications in terms of seeking the appropriate intervention. Contemporary pain models suggest that different neurophysiologic pathways can distort the perception of pain. Although patients experiencing LBP can be focused on 'what structure' is causing their pain and clinicians can feel compelled to provide patients with a structurally based answer, this often poses a diagnostic dilemma. Broadening the question to 'what processes' are causing the LBP, for example, through neuroscience pain based [133], contextual cognitive behavioural therapy [111, 134], mindfulness based stress-reduction [131], or biomechanically but less pathoanatomically focused oriented education may provide additional benefit. Future studies could address whether early identification and targeted education and treatment of neurophysiologically based pain subtypes, or matching a patient's psychological characteristics with the various education styles improves outcomes.
Declarations
Acknowledgements
The authors would like to thank the following classification scheme developers and experts for their survey feedback and review of the final manuscript: Dr. Helen Clare (MDT), Prof. Anthony Delitto (TBC), Prof. Julie Fritz (TBC), Prof. Peter O'Sullivan (OCS), Dr. Tom Petersen (PBC), Prof. Shirley Sahrmann (MSI), and Prof. Linda Van Dillen (MSI). NK is supported by a PhD scholarship from the National Health and Medical Research Council (NHMRC) of Australia Centre for Clinical Research Excellence in Spine Pain, Injury, & Health, The University of Queensland International Research Tuition Award, and the American Academy of Orthopaedic Manual Physical Therapists--Cardon Grant Award. PH is supported by a Senior Principal Research Fellowship from the NHMRC of Australia.
Authors' Affiliations
(1)
School of Health and Rehabilitation Sciences, NHMRC Centre of Clinical Research Excellence in Spinal Pain, Injury and Health, The University of Queensland, Brisbane, Australia
Copyright
© Karayannis et al; licensee BioMed Central Ltd. 2012
This article is published under license to BioMed Central Ltd. This is an Open Access article distributed under the terms of the Creative Commons Attribution License (http://creativecommons.org/licenses/by/2.0), which permits unrestricted use, distribution, and reproduction in any medium, provided the original work is properly cited.