Editor Profiles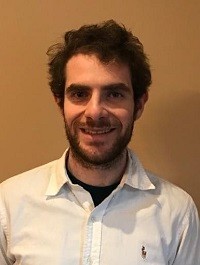 Ciaràn is an Editor for the BMC Series since March 2019. He obtained his BSc in Neuroscience from University College Dublin, MSc & PhD in Pharmaceutical Sciences from University of Copenhagen, Denmark. He still researches the neurochemical correlates of behaviour relevant to psychiatric disorders cross-species. Having most enjoyed the publishing process during his PhD, Ciaràn relocated to London to pursue an Editorial career at BMC Series. He is committed to promoting robust science on open-access platforms as Editor of BMC Cardiovascular Disorders, BMC Endocrine Disorders, BMC Musculoskeletal Disorders, BMC Rheumatology & BMC Sports Science, Medicine & Rehabilitation.
Clinical rheumatology and osteoporosis
Jeffrey Driban, PhD, ATC, CSCS is an Associate Professor in the Department of Medicine at Tufts University School of Medicine and a member of the Special and Scientific Staff at Tufts Medical Center. The goal of his research is to explore novel biomarkers and imaging markers to better understand osteoarthritis pathophysiology and potential phenotypes. Dr. Driban received his Bachelor of Science in Athletic Training from the University of Delaware. He received a Master of Education and Doctor of Philosophy in Kinesiology with an Emphasis in Athletic Training from Temple University. He completed a post-doctoral research fellowship in the Division of Rheumatology at Tufts Medical Center. Dr. Driban also aims to raise awareness about osteoarthritis and promote primary and secondary prevention strategies for physically active individuals as the Chair of the Athletic Trainers' Osteoarthritis Consortium and by serving as the Vice Chair of the Osteoarthritis Action Alliance. Prior to transitioning to Section Editor, Dr. Driban served 5 years as an Associate Editor for BMC Musculoskeletal Disorders. He receives funding from the National Institutes of Health and has published more than 100 peer-reviewed papers.
Clinical diagnostics and imaging
Dr. Hayashi joined the Editorial Board as a Section Editor of Clinical diagnostics and imaging section in July 2014. His research interest is musculoskeletal radiology, with specific focus on semiquantitative imaging analysis of osteoarthritis and imaging of sports injuries. Dr. Hayashi has authored PubMed-listed peer-reviewed publications in such journals as Annals of Rheumatic Diseases, Arthritis and Rheumatology, Nature Review Rheumatology, Radiology, British Medical Journal, and Seminars in Arthritis and Rheumatism. He has presented numerous scientific abstracts at International radiological and rheumatological conferences, including Radiological Society of North America, European Society of Radiology, American College of Rheumatology, Osteoarthritis Research Society International and European League Against Rheumatism. Dr. Hayashi has been involved in several large-scale epidemiological studies of osteoarthritis such as the Osteoarthritis Initiative, Framingham Osteoarthritis Study and Multicenter Osteoarthritis Study, as well as clinical trials including Joints on Glucosamine study and Meniscal Tear in Osteoarthritis Research.
Orthopedics and biomechanics
Umile Giuseppe Longo (MD, PhD, MSc) is Associate Professor and Consultant in Trauma and Orthopedic Surgery at University Campus Bio-Medico of Rome (Italy). He has been the recipient of several prestigious national and international awards and travelling fellowships in the field of orthopaedic sports medicine, joint replacement and regenerative medicine. Prof Longo is author of more than 250 peer reviewed manuscripts, a monography, and more than 60 chapters published in international books. He joined the editorial board of BMC Musculoskeletal Disorders in 2009. His main clinical and research interests include orthopaedic sports medicine, regenerative medicine and joint replacement.
Pathophysiology of musculoskeletal disorders
Ali Mobasheri is Professor of Musculoskeletal Physiology at the University of Surrey. Ali's research focuses on cartilage biology and biomarkers of osteoarthritis. He currently co-ordinates the EU FP7 funded D-BOARD consortium, which brings together leading European academic institutions and SMEs to focus on the identification, validation and qualification of new biomarkers for osteoarthritis. He is also a member of the APPROACH Consortium and has received funding from the Innovative Medicines Initiative (IMI), a joint undertaking between the European Union (EU) and the European Federation of Pharmaceutical Industries and Associations (EFPIA). Ali is a member of the Board of Directors of the Osteoarthritis Research Society International (OARSI) and chairs the OARSI Strategic Alliance Committee until April 2017, when he will become President-Elect of OARSI. He has published more than 200 peer-reviewed scientific papers and his current h-index on Scopus is 43.
Rehabilitation, physical therapy and occupational health
Bart Staal studied Physiotherapy (BSc) in Breda and Human Movement Sciences (MSc) at the Vrije Universiteit in Amsterdam in the Netherlands and graduated in 1996. He further specialized in Clinical Epidemiology and completed his PhD-thesis at the same institution in 2003 researching the effects of a graded activity program for airline workers with low back pain. He currently works as a senior research fellow at the Radboud University Medical Centre and as a professor of Musculoskeletal Rehabilitation at the HAN University of Applied Sciences, both in Nijmegen the Netherlands. His research themes mainly include: effectiveness of physiotherapy, musculoskeletal disorders, occupational health, sports injuries and guideline development. He was an Associate Editor of BMC Musculoskeletal Disorders since 2010 and became Section Editor of the section Rehabilitation, hysical therapy and occupational health in 2014.
Epidemiology
Anita Wluka, PhD, FRACP, MBBS is a Professor in the School of Public Health and Preventive Medicine, Monash University and a visiting Rheumatologist at the Alfred Hospital, Melbourne. The goals of her research are to identify why people develop musculoskeletal conditions, particularly osteoarthritis and back pain, and to improve patients' ability to manage. Dr Wluka obtained her medical degree from the University of Melbourne, Australia, trained in Internal Medicine at the University of Toronto, was a research affiliate at Harvard University and has worked in Melbourne, Australia, where she completed her training in Rheumatology, followed by her PhD in Epidemiology (Cartilage volume in health and disease), at Monash University. Prior to transitioning to Section Editor, Dr Wluka served for 2 years as an Associate Editor for BMC Musculoskeletal Disorders. She receives funding from the National Health and Medical Research Council and has published more than 250 peer reviewed papers.